High Point Fall Market Announces Vintage Vibes Tour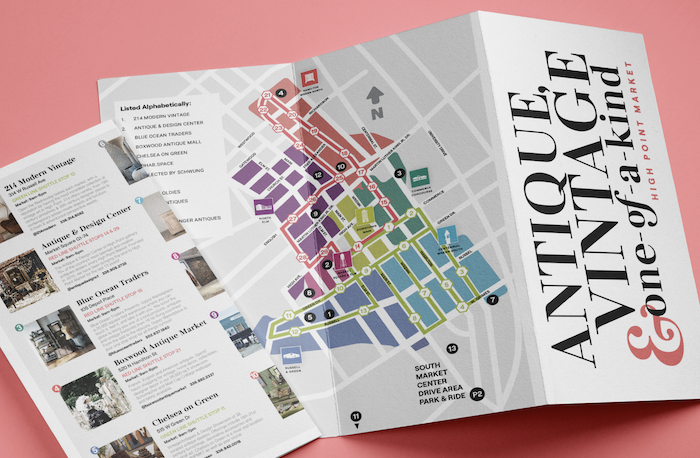 September 26, 2023
The High Point Market Authority (HPMA) announces "Vintage Vibes," its first-ever event to showcase the vast offering of antiques, vintage and one-of-kind furnishings available at High Point Market, taking place on Friday, Oct. 13, from 3 to 6 pm.
"This season's special event spotlights a number of resources for discovering the unique furnishings and decor items that designers source to create exclusive and personalized interiors," says Tammy Nagem, HPMA president and CEO. "Complementing our unparalleled new products offering, the impressive selection of rare finds here affirms High Point Market's value as a one-stop shopping destination for the trade."
To support the event, a printed map (above) will be available at information kiosks and in The Point, which lists 13 dealer showrooms participating in Friday's program, including 214 Modern Vintage, Antique and Design Center, Blue Ocean Traders, Boxwood Antique Mall, Chelsea on Green, Cohab.Space, Collected by Schwung, Eliko Rugs by David Ariel, Golden Oldies, Lavene Antiques, PRB, Randall Tysinger Antiques and Texture.
The map additionally correlates shuttle stops on the Red and Green bus lines for 11 of the participating exhibitors. HPMA will have four dedicated shuttles on continuous route from 3 to 6 pm, including to outlying showrooms Cohab Space and PRB. Departing from the main transportation terminal, the vans and shuttle service will be available throughout the afternoon for registered High Point Market guests to participate in self-guided tours.
Some of the participating showrooms will provide hospitality and other activities timed to coincide with the Vintage Vibes event. To view the full schedule, visit the High Point Market website's Vintage Vibes page.
Photo credit: High Point Market Authority