ICFF Announces Early Line-Up for Talks 2017
---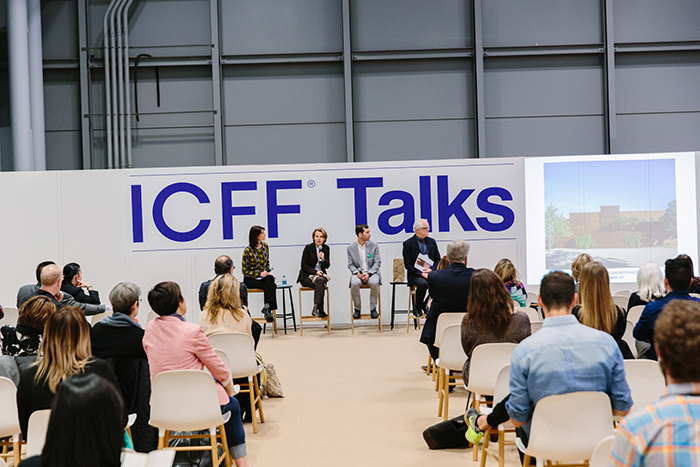 March 3, 2017
ICFF, North America's largest and most prestigious series of design events for interiors in its 29th year, is proud to announce its early line-up of ICFF Talks 2017 topics, and the current group of leading design industry influencers set to moderate. Each year ICFF conducts a call for submissions to the design industry to develop and present a panel discussion on stage aimed at engaging, educating and inspiring the global design community. ICFF Talks will take place each day of the show, May 21-24, 2017.
This year's ICFF Talks topics will challenge the design community to think broadly, globally and across mediums. Topics include a design forecasting discussion led by Susanne Slesin of Galerie magazine and a panel of design industry powerhouses. Others will explore the intersection of design and technology, including a panel uncovering the future of architecture with virtual reality led by Olivia Martin of The Architect's Newspaper.
"We're proud to bring such an impressive line-up of topics and presenters to the ICFF Talks stage this May," said Kevin O'Keefe, ICFF event director. "This year's Talks will be inspirational and thought provoking, and serve to connect the design community to our industry's top influencers."
This year's ICFF Talks topics include:
The Creatives: Coloring Outside the Lines; moderator: Jerry Helling, Bernhardt Design
Across Prespectives: Design Futures; moderator: Suzanne Slesin, Galerie magazine
Rendering to Reality: A Converstation with Marc Kushner, Architizer, and Enrique Norten, TEN Arquitectos
Curated Luxury Design; moderator: Simon Rawlings, David Collins Studio
Future of Architecture with VR; moderator: Olivia Martin, The Architect's Newspaper
You Are Here: Regional Design on the Map; GRAY magazine
Decorating Interiors with Light; moderator: Helen Fletcher, darc magazine
Maturing Your Product Offering; moderator: Kadie Yale, Interiors & Sources
Designers in the Middle; speakers: Rona Meyuches Koblenz, Kukka Studio, and Suzanne Trocme, designer, curator and author
Beauty Matters; moderator: David Trubridge, David Trubridge Ltd.
Hospitality Hotspots: What's New in New York; moderator: Stacy Shoemaker Rauen, Hospitality Design
Interview Points from Student + Millennial + Gen X + Baby Boomer + Silent Generation; moderator: Rio Hamilton, Mon Oncle
Members of the design trade can register now for ICFF by visiting the ICFF Registration Page.  All ICFF Talks are included in a general admission pass.