ICFF Talks 2016 Line Up Announced
---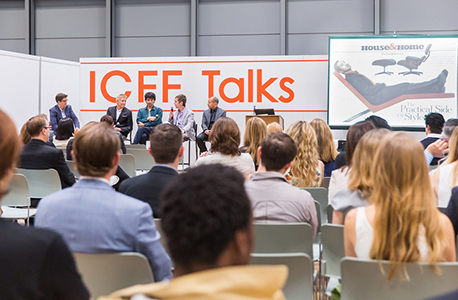 April 13, 2016
The ICFF Talks series will take place during ICFF this year from May 14-17 at the Javits Center in New York City. Topics will include s detailed look at trends and the intersection of architecture and design, definitions and technologies and successful collaborations. ICFF Talks will bring innovative ideas, thinkers and practitioners to the stage for exploration and discussion.
The 2016 line up of topics and speakers has just been announced:
Saturday, May 14:
Design Trends: A Multi-Perspective View of the Year Ahead
A powerhouse group of the top design trend experts in America will share their own perspectives on the most important design trends for the coming 12 months. Featuring Trend Gary Inman, vice president of Hospitality at Baskervill; Virginia Langley, graphic and textile designer; Sara Ledterman, editor in chief of Adorno Magazine; and moderated by design trend expert and founder of Design Life Network, Bill Indursky.
Designing for Small Spaces
In many cosmopolitan cities like New York and Paris, space is limited – even in high-end buildings. Join Erika Heet, editor in chief of Interiors magazine, and a panel of esteemed designers to explore how to maximize every inch of space in any project.
Design: The Architecture of Storytelling
Design naturally revolves around a creative narrative, which is conveyed by a team of collaborators joining in to help tell a story. This discussion will cover some of the most pivotal partnerships in the design and architecture worlds, including the 125 Greenwich Street project and Snarkitecture collaboration.
Sunday, May 15:
Collective Innovation: Embracing Collaboration in (Home Furnishing) Design
IKEA recently opened up to a more collaborative design process. A more open environment can lead to new ways of working and finding new technical solutions. Join moderator Maxwell Ryan of Apartment Therapy; Mikael Ydholm, head of research at IKEA Group; and a panel of experts as they discuss the importance of collective creativity in design and share learnings to inspire others to explore a more collaborative process.
Friends with Benefits
Julie Taraska, products editor, Architectural Record, has a conversation with a group of people who – over the course of close to a decade – have all had the opportunity to work and play together. Harry and Claudia Washington have designed for Council and Bernhardt, while twice inviting Derek Chen to participate in Contempo, El Salvador's biennial design conference. And this year, Brad Ascalon debuts his newest design and first with Council, the Engage sofa collection, six years after Ascalon's own commercial collaboration with Bernhardt. The group will discuss their own careers and their combined endeavors with respect to how relationships play vital roles in a sustainable and more fulfilling career in the world of design and manufacturing.
Designing for the Modern Lifestyle: The Intersection of Technology and Design in the Kitchen & Bath
The 2016 National Kitchen & Bath Association (NKBA) K+B Insiders, consisting of both up-and-coming and established influencers from the design and building industries, will discuss the influence of technology on kitchen and bath design. The interactive, moderated dialogue will cover the latest in integrated design trends, high-tech appliances, how technology empowers design and how it influences the psychology of two of the most importance spaces in the home.
Monday, May 16:
Designing Retail Stores for Today's Savvy Shopper
Join moderator Alison Embrey Medina, executive editor of design:retail magazine, along with a panel of first-class luxury retailers, as they discuss the latest retail design trends, the challenges and immediacy of stores today and how today's digital-savvy customer influences the design of retail stores for the future.
Defining Luxury for Today
From contemporary interiors to ecofriendly solutions, luxury may not look the same as it did a decade ago in hospitality. But one thing is for sure: Luxury for today's traveler is all about authentic experience. Stacy Shoemaker Rauen, editor in chief of Hospitality Design magazine, sits down with some of the best in class, who are creating these unforgettable moments.
Products and Buildings: How Can Architects Successfully Design Both?
Architects from Sottsass to Graves have created beautiful industrial products. But with each field's materials, production technologies and customer bases becoming increasingly specialized, can architects easily transition to furniture, lighting and textile design – or are they in for a shock? What are the opportunities for those looking to apply their design vision to different scales and mediums? This panel, moderated by Julie Taraska, products editor, Architectural Record, will feature architects and manufacturers discussing the process, pitfalls and potential payoffs of shifting to product design.
Tuesday, May 17:
Architectural Interiors Today
What separates interior architecture from interior design? Join Matt Shaw, senior editor, The Architects Newspaper, and a panel of architects at the top of their game, as they discuss their experience manipulating volume, texture, structure and materials to create inspirational spaces that bridge the gap between architecture and interiors.
Designing with Soul – Everything You Need to Know About Working with Artisanal Brands
In today's climate – where even toothpaste can be considered artisanal – what does that word really mean, and what value does it actually bring to a design project? A diverse panel of designers from handcrafted brands will candidly discuss the process of working directly with a small manufacturer. The panelists will dispel common myths and explore exactly what to look for and what to avoid to derive the absolute best from the partnership.
For updates to the ICFF Talks schedule, visit www.icff.com. For more information about ICFF, visit the new ICFF Pressroom.