Insights from KBIS 2017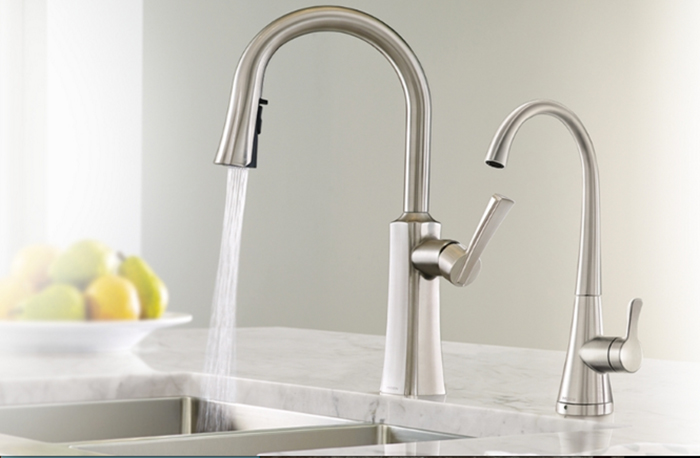 January 16, 2017
Above Image: Powerclean Technology from Moen
More than likely, you saw the staff from Kitchen & Bath Business magazine somewhere on the show floor. We went everywhere – from the West Hall to the South Hall (and back and forth more than we want to remember) to the Outdoor Pavilion and the Backyard. On our way, we picked up on quite a few trends happening in our industry. Here are just a few:
1. Matte Black. It's everywhere, from Delta's faucets to luxury refrigerator appliances. The darkness offers a relief from all of the white in the past decade.
                                                                        Essa from Delta
2. Rose Gold and Copper.  We saw quite a lot of warm colors mostly in hardware and faucets. It pairs well with matte black finishes as well.
             Black Matte refrigerator with brushed copper hardware option from True
3. Hexagons. We saw quite a few of these from tile brands, who suggested that the pattern is a lovely contrast with the streamlined, modern style. 
                                                     Hexagon Mosaic from Walker Zanger
4. Anti-Microbial. A few products, like a doorknob from Kwikset and a sink from Thompson Traders, are catching onto consumers' desire for cleaner spaces.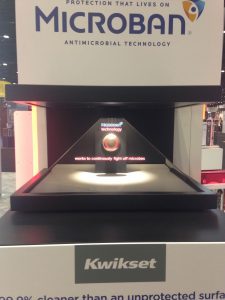 Microban Technology from Kwikset
5. Eco-Friendly. Brands are going to more lengths to make the kitchen and bath save water and energy but not skimp on quality.
6. Outdoor Living. There was a whole section of brands for outdoor living in the South Hall, plus a few more in the Backyard outside. There were even brands on the regular show floor with more durable, waterproof options. The kitchen is going outdoors for sure, but this year with more color and choices like size and functionality.
                                                                                                                            Pryzm from Armstrong Flooring
7. Products for Smaller Footprints. As seen in Neolith's "Tiny House" at the show, smaller spaces are swiftly rising in popularity. Smaller versions of products – such as vanities, appliances and fixtures – are available for this trend, as well as for their necessity in larger cities with smaller living spaces.

                                                              Balletto by Robern
What did you see? Share with us here or on our Twitter and Facebook platforms!