InSinkErator Named Two-Time Winner of David Weekley Homes Partners of Choice Award
---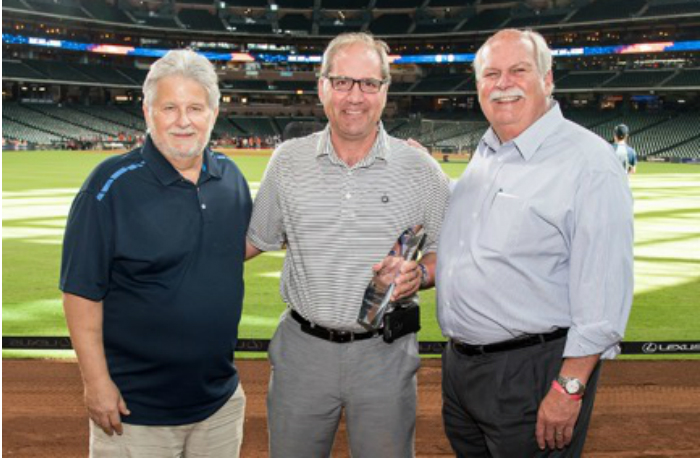 July 5, 2018
InSinkErator, a business unit of St. Louis-based Emerson Electric Co. and a provider of food waste disposers for residential and commercial use, is proud to announce its second win of the distinguished "A,A" ranking for both Quality and Service for the previous 12 months from David Weekly Homes. InSinkErator provides food waste disposers and instant hot water dispensers to David Weekley Homes.
David Weekley Homes created the Partners of Choice supplier evaluation platform to demonstrate its dedication to partnering with companies that consistently strive for excellence. More than 1,000 David Weekley Homes team members from every market and every level inside its organization participate in the program by rating 200 suppliers' effectiveness in delivering Quality and Service to the organization. InSinkErator earned the "A" ranking in 2012; this is the second year it received an "A,A" ranking, following the first win in 2014. Bill Justus, David Weekley Homes vice president of supply chain services, implemented the gold standard evaluation method. This is the 14th year the rating system has been used to compare companies' performance from different industries.
"As we continue our long term growth strategy, we will continue to rely on providers that achieve world-class status in delivering quality products and superior service," said Justus. "Our evaluation platform is a quantifiable way to measure world-class performance. By receiving the A,A Partners of Choice Award, our friends at InSinkErator demonstrated through actions they are truly a world-class partner."
Joe Maiale, InSinkErator vice president of wholesale sales described the second win as doubly gratifying.
"To be recognized once Is a great honor; to repeat the award from this distinguished partner is beyond rewarding," he said. "As a discriminating group of purchasers, David Weekley's homeowners appreciate knowing they are receiving units from the disposer company proudly calling the USA home for the past 80 years, which also remains the top choice of plumbing and building professionals."