KBB Editors Share KBIS 2023 Hits and Highlights
February 15, 2023
On this week's From the Tap Podcast, we talked about KBIS 2023 hits and highlights. I was joined by our managing editor, Leslie Clagett, and Arlen Schweiger, executive editor for KBB's sister publication, CE Pro.
We shared our impressions of this year's event: energy filled, enthusiastic attendees, good crossover among the various shows, record-breaking attendance. We also talked about the Best Booth winners and how wonderful those designs were this year – even better than in years past.
We then dove into the overarching trends and movements we each encountered – from color to texture to personalization – and expanded on those in terms of products and brands. Some more specific sightings were manufacturers experimenting with automotive colors, the winners of Kohler's Heritage Colors – voted on by attendees – and brands taking the sustainable route. We also touched on which manufacturers are offering up interesting ideas for customization on everything from appliances to shower fixtures.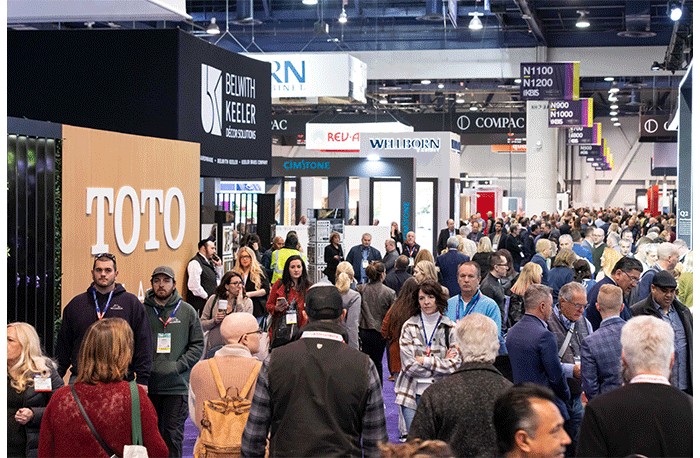 We each talked out some of our favorite products we saw at KBIS 2023. Including "fire art" from Fire Garden, keypads and other technology disguised into the walls and ceilings from Wall Smart, metal cabinetry from etu Home and all colors of tubs.
We went into detail on the KBB West Hall Tour, which took 15 designers on booth visits to all-new exhibitors at KBIS, including Sepura Home, this year's Kickstarter Awards winner. And we took a look at the KBIS NEXT Stage, where I interviewed our 2022 Person of the Year, Jeanne Chung.
Next year's KBIS and Design & Construction Week is again taking place in Vegas from Feb. 27-29, and we can't wait to see you there!
To hear about more of our favorite KBIS 2023 products and trends, watch the full video above or listen to the podcast on Spotify, Google Podcasts, Apple Podcasts, Pandora and other outlets.
By Chelsie Butler, KBB Executive Editor