KBIS 2017 Sees Stellar Growth with Attendance Up
---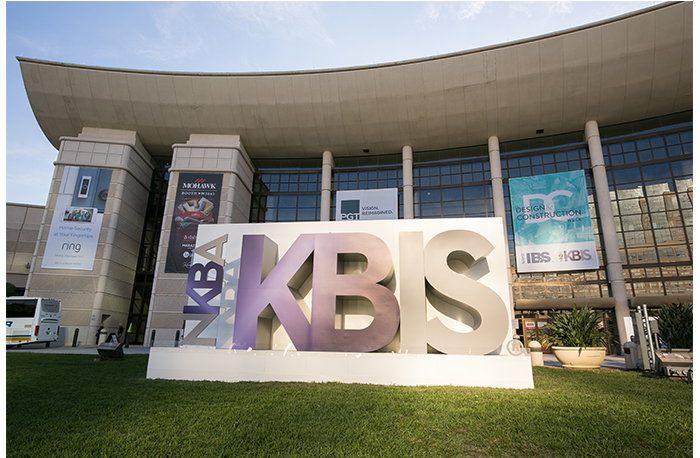 January 30, 2017
The 2017 Kitchen and Bath Industry Show (KBIS), the destination for kitchen and bath design professionals, welcomed designers, builders, architects, dealers and suppliers along with 550+ exhibiting brands to Orlando from January 10-12 for what was one of the largest and most successful KBIS events to date. There was an increase in attendance over the previous year; the fourth consecutive year of attendee growth. KBIS will return to Orlando and the Orange County Convention Center from January 9-11, 2018.
"What an incredible beginning to the new year for our industry," said National Kitchen & Bath Association vice president of industry relations, Suzie Williford. "With more than one-in-10 homeowners undertaking a kitchen or bath project last year, it's no surprise that KBIS is a centerpiece of the industry and the must-attend event of the year."
"I'm extremely proud of the entire KBIS team who together brought this show to life and delivered an exceptional experience for our attendees and exhibiting brands," said Brian Pagel, vice president of the Kitchen and Bath Group, Emerald Expositions. "2017 was one of the largest KBIS shows to date with nearly 600 brands represented, a significant number of which debuted new product innovations at the show. All signs point to a strong year ahead for the kitchen and bath industry. We look forward to bringing the KBIS community together once again in Orlando in 2018."
As a founding member of Design & Construction Week®, and in collaboration with the National Association of Home Builders (NAHB), KBIS co-located with the International Builders' Show (IBS) for the fourth consecutive year.
NKBA CEO Bill Darcy delivered this year's State of the Industry Address, discussing annual design trends and economic research studies taking place in the $134-billion kitchen and bath industry. One NKBA study, "Estimated Market Value for the Kitchen & Bath Remodeling and New Residential Construction Markets," found that each year homeowners remodel upwards of 10.2 million kitchens – roughly one in 10 of all households – and 14.2 million bathrooms, two of the most important rooms in a home.
Serving as one of the most memorable moments of KBIS 2017, The NKBA with KBIS hosted the first public event supporting the "This Old House" Generation Next philanthropic campaign to encourage and empower young people to join the skilled trades. All proceeds from the campaign went to the mikeroweWORKS Foundation's Work Ethic Scholarship Program, providing scholarships to people getting trained for skilled jobs in demand. KBIS hosted a "Beers & Cheers for Trade Careers" event in 'The Backyard,' a new show space located outside of South Hall, to celebrate the donation and initiative. At the event, Mike Rowe of the mikeroweWORKS Foundation accepted a $500,000 check from the charter partners of the "This Old House" Ventures' Generation Next initiative.
Also this year, the NKBA Presents KBISNeXT Stage sponsored by HomeAdvisor offered thought-provoking and inspiring programming delivered from some of the most well-respected names in kitchen and bath design. Stage programs showcased trends and insights on timely topics, including Airbnb design, outdoor living, designing for downsizing and color trends. It also gave exhibiting brands the opportunity to take to the stage and highlight new kitchen and bath products and innovations during the highly popular Design Bites™ sessions hosted by Kevin O'Connor of "This Old House" and Jeff Devlin of HGTV and DIY Network. The KBISNeXT Stage also played host to the NKBA's 2017 30 Under 30 program, designed to help recognize outstanding young professionals and to share their insights regarding significant trends, sustainable business practices and emerging business models found at the show.
KBIS 2017 created new destinations on the show floor to further enhance the attendee experience. The all-new Discovery District served as a center for exploring unique and potentially undiscovered brands and products new to KBIS, several of which were honored as Best of KBIS award winners, including The Copper Shower Kit and GEOLUXE. Also new for 2017 was the Design Milk X Modenus Social Lounge, a hub for bloggers, social influencers and design VIPs to connect, chat and (re)charge. The Social Lounge hosted a series of talks and discussions on topics around blogging, social media, trends and the business of design. Another new and exciting destination, the Student Lounge, sponsored in part by Ferguson, was created to afford students a space to unwind during KBIS. The lounge was home to this year's Tiny House Challenge competition and also provided an opportunity for student networking.
KBIS will return to Orlando and the Orange County Convention Center January 9-11, 2018. For more information, visit kbis.com and kbispressroom.com.