KBIS 2023 Highlights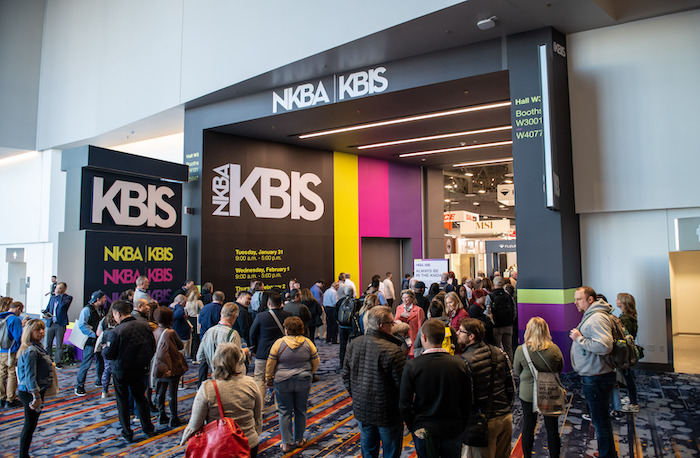 February 8, 2023
The Kitchen & Bath Industry Show (KBIS), owned by the National Kitchen and Bath Association (NKBA), just came off one of the most successful shows in its nearly 60-year history. KBIS 2023 was held last week in Las Vegas and was part of Design & Construction Week (DCW), which also recorded record-breaking attendance.
"We expected a successful show based on the preliminary numbers, but we were blown away by the final attendance numbers for KBIS and Design & Construction Week. It was just incredible," said Bill Darcy, chief executive officer of NKBA, Bethlehem, Pa. "Our goal when we created DCW with our partner, the National Association of Homebuilders (NAHB), was to become the biggest trade show in North America… and, for now, we are."
Over 200,000 housing and design professionals attended DCW, the co-location of KBIS and the International Builders' Show (IBS), owned by NAHB, along with the three co-dated industry shows: the National Hardware Show (NHS), The International Surfaces Event (TISE) and the Las Vegas Winter Market. Both KBIS and IBS marked the 10th anniversary of DCW, held January 31- February 2, while NKBA kicked off its year-long 60th anniversary celebration.
"With more programs, activations and learning opportunities than ever before, KBIS 2023 was exceptional," said Suzie Williford, EVP and chief strategy officer, NKBA. "There was such positive energy on the show floor by both attendees and exhibitors. Everyone was happy to be together, to attend our events and be a part of the amazing experience – an experience that will drive momentum for our industry throughout the year."
This year's show, held at the Las Vegas Convention Center, boasted the highest attendance in the history of DCW, the largest annual gathering of residential construction and design industry professionals. DCW's 2023 overall attendance totaled 40,000 KBIS attendees, while IBS drew nearly 70,000. Attendees visited more than 1,800 exhibitors showcasing the latest housing products across about 1 million net square feet of exhibit space.
KBIS 2023 By the Numbers
40,091 Attendees
51% First Time Attendees
500 Exhibitors
140 New Exhibitors
148 International Exhibitors
394,930 net square feet of exhibit space
"KBIS 2023 experienced unprecedented registration growth, up 35 percent in qualified attendees versus the 2020 show held pre-pandemic," said Jason McGraw, group vice president, Emerald Expositions, which produces KBIS for NKBA. "This year's strong attendance turnout has encouraged over 300 exhibitors to already contract to exhibit at KBIS 2024, with many increasing their show presence. Early sales are up more than 12 percent versus this year's show, with more than 88 percent of next year's expanded show floor space secured."
Next year, KBIS and Design & Construction Week will be held February 27-29, 2024, in Las Vegas at the Las Vegas Convention Center. For more information, go here.
2023 Show Highlights
NKBA Design + Industry Awards
Kicking off KBIS 2023, over 1,000 industry leaders, design professionals and VIPs attended the sold-out NKBA Design + Industry Awards. NKBA's CEO Bill Darcy and EVP & CSO Suzie Williford hosted the event and presented over 30 awards recognizing industry professionals whose inspired work was deemed the best in the categories of kitchen, bath and showroom design. Additionally, this year's NKBA Hall of Fame Award was presented to Steve Feldman, founder & CEO, Renovation Angel. Also honored during the event was Volker Irle, Managing Director of AMK, the German Association of the Modern Kitchen, who was given the NKBA Chairman's Award.
The program was sponsored by Beko, the event's Title sponsor, as well as by Diamond sponsors, 2020 Design Software, Ferguson Bath, Kitchen, and Lighting Gallery and Vent-A-Hood; Gold sponsors, Hettich and Home Depot; Photo Booth sponsor, Duravit; and Special Mobile Bar sponsor, Perlick.
NKBA | KBIS NEXT Stage
The newly redesigned NKBA | KBIS NEXT Stage, sponsored by Samsung|Dacor, hosted over 20 panels, presentations and awards programs, featuring over 60 industry leaders who shared their insights on topics including sustainable living, design trends, designer/client relationships, economic forecasts, wellness, and more. New for 2023: the KBIS Disruptor Series, which showcased people and companies who have charted their own course and disrupted traditional paths. Also new this year were the high-profile daily programming hosts, all NKBA designers, who emceed from the stage bringing new energy and excitement to the presentations: Arianne Bellizaire, principal/owner, Arianne Bellizaire Interiors, LLC; Garrison Hullinger, principal, Garrison Hullinger Interior Design; and Laurie March, project manager and host/producer of several HGTV short-form digital series.
The following awards were presented on the NKBA | KBIS NEXT Stage:
DesignBites – "Brand with the Biggest Bite" program highlighted 10 innovative presentations culminating with the "Biggest Bite Award" and "People's Pick."
The Brand with the Biggest Bite was selected by a "Shark Tank" panel of judges who included Leigh Harrington, Reviewed, part of the USA TODAY Network; Sarah Robertson, Studio Dearborn by Sarah Robertson; and Breegan Jane, TV host, interior designer, entrepreneur & philanthropist. The People's Pick was selected by the audience, which included media and the Design Hounds Influencer Network, and was managed by Modenus Media through a live texting app.
Brand with the Biggest Bite Winner: Beko US
People's Pick Winner: Brondell
Other participating brands included:
Bocchi
Fotile
Fulgor Milano
LG Electronics Inc
Moen
nobilia North America
One Click Contractor
ROBAM
Best of KBIS Awards
The Best of KBIS Awards recognize the top new exhibitor product innovations. Sponsored by Luxe Interiors + Design and hosted by Luxe style director Kathryn Given, the top award of "Best in Show" went to BOCCHI for its Baveno Kitchen Sink System. The full list of winners included:
Best of KBIS – Bath Gold:
S.G. SRL – inFINE Column Shower
Best of KBIS – Bath Silver:
Kohler WasteLAB – The ABSTRA Collection
Best of KBIS – Kitchen Gold:
BOCCHI – Baveno Kitchen Sink System
Best of KBIS – Kitchen Silver:
FOTILE – Insert Self-Adjusting Range Hood
Best of KBIS – Connected Home Technology Gold:
MOEN Smart Sprinkler Controller and Smart Wireless Soil Sensors
Best of KBIS – Connected Home Technology Silver:
GE PROFILE – 36-inch Touch Control Induction Cooktop
Best of KBIS – Impact Award (Judge's Choice):
S.G. SRL – inFINE Column Shower
Best of KBIS – Best in Show:
BOCCHI – Baveno Kitchen Sink System
The Best of KBIS 2023 judges were Michelle Blemel, owner and principal designer, Amberleaf, Inc.; Cyndy Cantley, ASID, CKD, principal designer, Cantley and Company, Inc; Rachel Hale, lead designer, Colmar Kitchen Studio; Jennifer Stoner, president, Jennifer Stoner Interiors, Inc.; and Rebecca Zajac, principal and founder, Design by Numbers.
KBIS KickStarter Zone
Back for its second year, the Kickstarter Zone features new-to-market brands that have been in the residential design and construction business for less than 3 years – and are first-time exhibitors at KBIS. All Kickstarter participants were reviewed and judged by a panel of industry leaders, who gave out the following awards:
Grand Prize: Sepura Home Ltd.
Runner Up: Principle Faucets
People's Choice: Hai
KBIS Best Booth Design
This year, KBIS recognized five booths as Best Booth Award recipients:
Best Overall Show Booth – KOHLER
Best Booth Large – CAFÉ
Best Booth Medium – Fabuwood Cabinetry Corp
Best Booth Small – ABKSTONE
Best Booth Honorable Mention – Miele Inc.
NKBA Global Connect
The NKBA Global Connect Pavilion, delegation tours and returning German Pavilion, featured high-level international exhibitor brand "Spotlight" presentations complemented by roundtable and panel discussions. Panel and roundtable topics include a review of the health of the North American kitchen and bath sector, "Go-to-Market" distribution and sales strategy and "Meet the Designer" discussions that will dive into the various types of North American kitchen and bath market considerations.
Other featured show activations included the Design Milk X Modenus Talks Lounge. The return of the popular Design Milk X Modenus Talks Lounge featured 13 engaging presentations and conversations with a focus on design business, digital strategies, industry trends and exhibitor-focused BrandTalks.