KBIS 2017 Welcomes the Social Lounge
---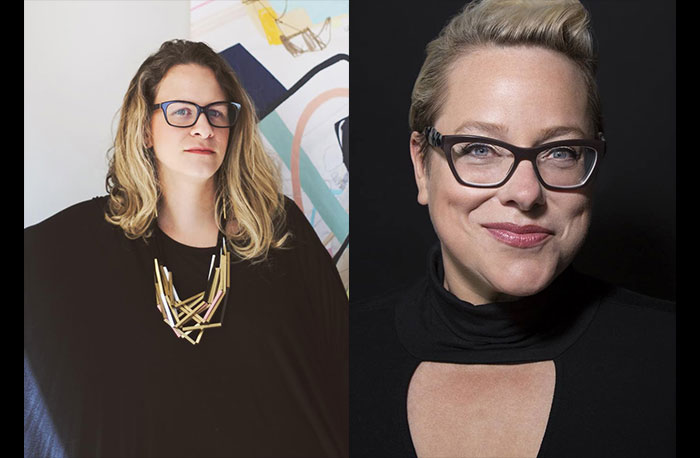 November 14, 2016
Left to right: Jaime Derringer of Design Milk and Veronika Miller of Modenus CEO
The 2017 Kitchen and Bath Industry Show (KBIS), the destination for kitchen and bath design professionals, and design resource Modenus Media today announced the all new Modenus® X Design Milk® Social Lounge, a space for bloggers, social influencers and design VIPs to connect, chat and (re)charge. The Social Lounge will be located in space S5414 in the North/South Building of KBIS 2017, Jan. 10-12 at the Orange County Convention Center in Orlando.
The Social Lounge will feature a series of talks and discussions on topics around blogging, social media, trends and the business of design.  Veronika Miller with Modenus explained, "The Social Lounge is conceived as an intersection between influencers and brands and between modern and luxury design styles. We are thrilled to be working with the immensely talented Jaime Derringer of Design Milk as we further develop this concept and leverage the vast online communities of Design Milk and thousands of design professionals that surround Modenus, online and in real life."
The concept has long been a goal of the partnering design media powerhouses, Modenus Media and Design Milk, as both continually look for ways to extend digital conversations made among their audiences into tangible connections for more meaningful relationships. "The Social Lounge at KBIS will be one of Design Milk's most exciting partnerships this year," said Jaime Derringer, editor, Design Milk.
"The NKBA is thrilled with the addition of this platform to KBIS, connecting our audience to the influencers shaping the social landscape of the kitchen and bath industry," said NKBA VP of Industry Relations Suzie Williford.
"The Social Lounge is a strategic addition to KBIS that we're excited to welcome in 2017," added Brian Pagel, VP Kitchen and Bath Group, Emerald Expositions. "Veronika, Jaime and their collective teams are bringing incredible value in their ability to connect industry brands with social influencers, helping to establish relationships at KBIS that live year round."
"We have long been admirers of Modenus and are thrilled to partner with Veronika Miller and her team to bring bloggers, social influencers, media professionals and brands together to talk shop," Derringer added. "Bringing the online world offline to make real world connections has been one of Design Milk's main goals over the past few years. The KBIS Social Lounge is just the start of something awesome."
Entrance into the social lounge is by invitation only. To apply for an invitation, please contact florence@modenus.com.