KBtribechat Returns to KBIS 2018 with Two Events
---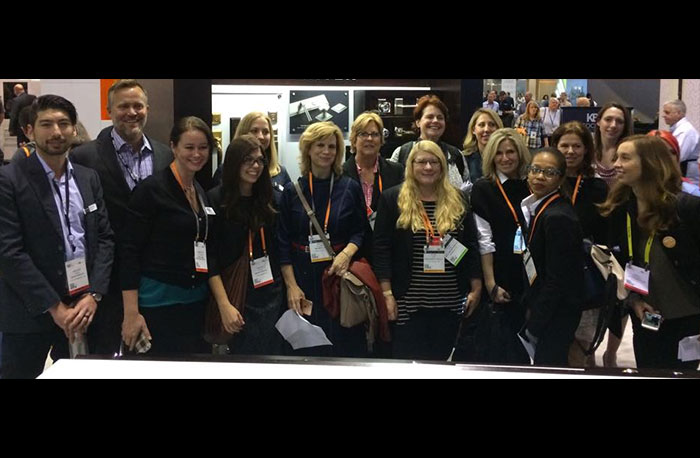 December 4, 2017
The popular Twitter Chat community KBtribechat has announced their KBIS 2018 line up. KBtribechat will make its seventh appearance at the Kitchen & Bath Industry Show (KBIS) by hosting live events on both Tuesday and Wednesday on the KBIS show floor. Typically hosted online each Wednesday, this Twitter chat will bring its participants together in-person and online for a first look at the latest and most innovative products at KBIS 2018. On Tuesday, headed up by KBtribechat founder Stacy Garcia, attendees will progress through the show floor with stops at four exhibitors including Wilsonart, Rev-A-Shelf, Wellborn Cabinet, Inc. and Signature Kitchen Suite.
Tuesday, January 9, 2018
Progressive KBtribechat
Event Timing and Hosts:
1:30pm  Wilsonart  booth W713  @Wilsonart
1:53pm  Rev-A-Shelf  booth W929  @REVASHELF
2:15pm  Wellborn Cabinet  booth W728  @WellbornCabinet
2:40pm  Signature Kitchen Suite  booth W228  @SKShome
On Wednesday, attendees will gather during the weekly KBtribechat hour to network, share show highlights on social media, plus see the latest from Thermador first hand.
Wednesday, January 10, 2018
2:00 to 3:00 pm
KBtribechat will be hosted by Thermador in booth W1749.
"This is the sixth year working together to host a live #KBTribeChat on the KBIS show floor, and it remains a highlight for everyone in the industry," said Brian Pagel, senior vice president, Emerald Expositions.
"Getting together with KBtribechat friends is one of my show highlights," said Stacy Garcia, KBtribechat founder. "Meeting in person strengthens the connections made online every week during our industry discussions. Sharing excitement over making discoveries together is a lot of fun and what our progressive event is all about!"
KBtribechat brings kitchen and bath designers, interior designers, architects, bloggers, manufacturers, brands and industry insiders together every Wednesday from 2:00 – 3:00 pm EST on Twitter to discuss industry trends, innovative products and emerging design ideas. With more than 29,600 Twitter followers and weekly participants from every corner of the industry, KBIS is proud to collaborate with "the tribe" to provide a sneak peek into all things KBIS and what attendees can expect to see at this year's show.