KLAFFS Bubble Bath: First Bath Expo
---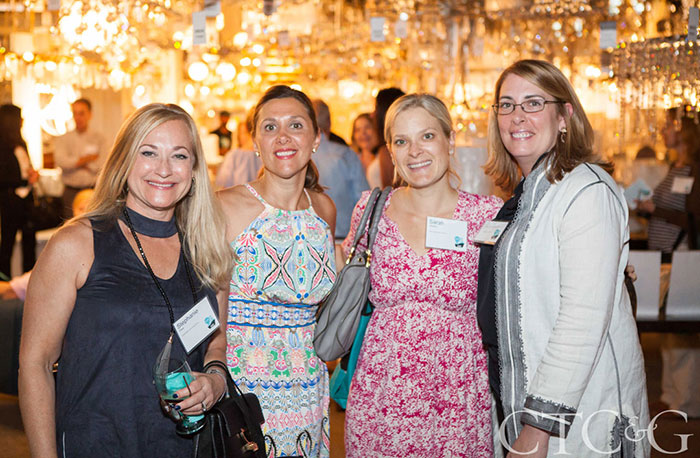 July 18, 2017
From Left to Right: Stephanie Rapp and Andrea Williams, Stephanie Rapp Interiors; Sarah Weiland, Tusk Home + Design; and Chris Roughan, Roughan Interior Design
KLAFFS, Fairfield County's premier kitchen and bath retailer, hosted their first Home Design and Bath Trends Expo last month on June 14th.  Over 36 bath and design companies were represented at the event.  Vendors were on hand to discuss the latest trends in bath design from tile, to bathtubs, hardware.
The evening started with an educational CEU Course titled The Evolution of the Bathroom presented by GRAFF.  This was a continuing education course for professionals to develop a broader understanding of how society and the environment continue to influence bathroom innovation. Then the official kick off cocktail reception for the visitors began. Followed by a presentation from DJ Carey, the Editorial Director of CTC&G, on most recent Bath Trends. "There are so many options in terms of products for the bath today. To help the design professionals and consumers I have identified the top trends both nationally and locally. And what better place to discuss these bath trends than in a great resource like KLAFFS!", said DJ Carey.
The entire store was transformed for the evening with vendors and tables filled with the latest in designs for your bathroom.  Each vendor had special giveaways and information about their brands to share with customers and designers.  Each person received a card upon entry that they had to bring around to each vendor for an opportunity to win prizes.  KLAFFS also hosted an Instagram contest where people Instagramed using the hashtag #KLAFFSBubbleBash with a corresponding picture of the funniest or most creative Bath Expo image.  The most likes won a prize!
"In addition to the fact that we at KLAFFS loved throwing a good celebration for our partners and customers, we felt that an Expo of this type would be a perfect way for our brand partners to get in front of our designers, builders, architects — all our industry professionals," said KLAFFS CEO Joe Passero. "We're all pressed for time and we hoped that in a few productive hours, attendees were able to scope out fabulous products and expedite their project planning.  Plus, with insights from a trend spotter like CTC&G's Editorial Director DJ Carey, we hope to help them gain an edge in the marketplace, as well."