Lakeland College IDT Program Awarded NKBA's Excellence in Education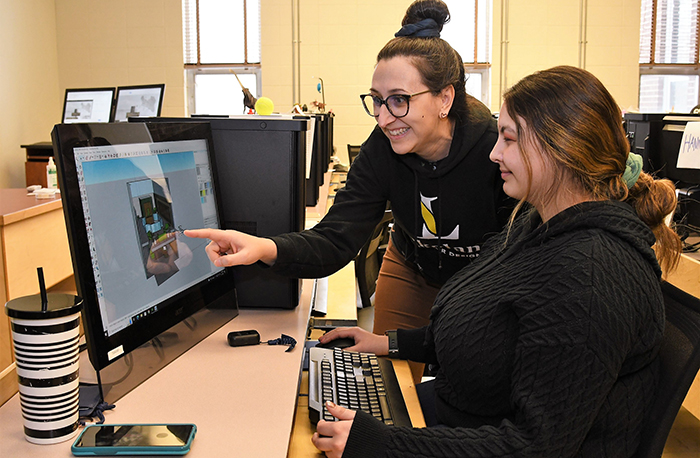 June 15, 2023
The National Kitchen & Bath Association (NKBA) has recognized the Lakeland College interior design technology (IDT) program with an Excellence in Education Award.
"It's exciting for our interior design technology program to be recognized by the NKBA," said Rochelle Horne, IDT program head. "It's a powerful testament to our students' knowledge and skill set and our instructors' guidance and support." 
The 2023 Excellence in Education award is the eighth for the IDT program. The 2023 Excellence in Education Awards are based on submissions to the NKBA's 2021-22 Student Design Competition. Winners will be announced later this year.
For 17 years, Lakeland students have placed in the NKBA's Student Design Competition. Lakeland students learn through action, applying their skills in a studio setting where they master design fundamentals, drafting and space planning. Lakeland's intimate class sizes provide a unique opportunity for one-on-one mentorship.
"Our interior design technology program at Lakeland is grateful for the nurturing programming the NKBA offers, ensuring students, graduates and professionals are aligned for success," said Horne. "Our program and students receive incredible support from the NKBA, especially from our Prairie Provinces Chapter. The chapter executive, individuals, and company members always embrace our students as emerging professionals."
Based at the college's Vermilion campus, Lakeland's two-year IDT diploma program provides students and graduates with a competitive skill set to break into the industry. Lakeland is the first Canadian institution accredited by the NKBA in 1999 and has founding member status. Through this relationship, Lakeland's IDT program curriculum supports the knowledge extended by the NKBA, creating a solid foundation for students to work from. The program was named NKBA College of the Year in 2017 and 2019.