Manhattan Art and Design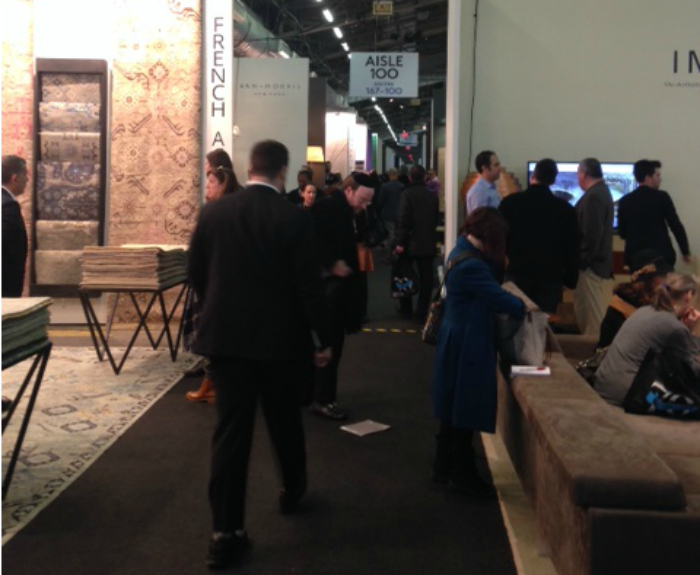 March 20, 2017
In an old ship terminal off of the Hudson River, the Architectural Digest Design Show (AD) brought together hundreds of artists and kitchen and bath manufacturers. Designers, art enthusiasts and product manufacturers ventured out into the snow to find an intimate setting full of the latest and greatest from the industry. From fun and unique hardware to luxurious and colorful sinks, AD emphasized what we already knew was trending and touched on what is coming next.
View a gallery of products from the show here.

Happy Colors. With Pantone's color of the year a striking green, it's no surprise that color was popping up everywhere at the show. Ovens in particular – like a bright red model from Smeg – were shown in a range of colors. There were light fixtures in pink and turquoise, and sink interiors boasted bright colors of azure and purple.


The SMEG Portofino Range comes in seven different colors, like olive green, orange, red, white, stainless steel, black and yellow. Features include a rapid heat dual burner, an isothermic cavity, a soft–close door and triple fan convection.
Black is Back. This obvious optimism in color contrasts with a black palette, which appeared in cabinetry and faucets. The look suggests a touch of the dramatic, along with the desire to appear more "Hollywood glam" and classic with black-and-white themes.

Zephyr's Black Stainless Steel Hoods have a military-grade, built–in layer of protection with an anti-smudge coating for easy cleaning. Shown here, the Ravenna Wall hood with Smoke-Gray Glass comes in 30 or 36 inches. and features Airflow Control Technology and integrated LED lighting.

More Variations. With the popularity of the rustic look, manufacturers are now focusing less on solid colors and more on gentle variations. There are different shades of color and more texture in each individual tile than before. This offers a new take on the standard subway tile, which clients still love.

Waterworks' Grove Brickworks is a rustic collection offering an extensive color palette spanning clean white, assorted jewel tones and metallic hues. Shown here in Peacock Green, the collection was created as a more bespoke option for tiled spaces.
Induction Rangetops. More manufacturers introduced an induction cooktop for the first time, including BlueStar. According to the company, this new introduction was inspired by consumers' desire for minimalism and an easier-to-clean surface.
BlueStar has launched the 36-in. Induction Cooktop, featuring the most powerful burner in the industry at 5,500 watts. The Smart Power Management feature automatically calculates and disperses the maximum amount of power across number of burners in use and can bring a pot of water to boiling in three and a half minutes.
Small Spaces. Granted this was emphasized because of its popularity in New York, small-space living was definitely a trend at the show. Little vanities, like the Aravo Petite Collection from Ronbow, also offer organized interiors to compensate for the lack of countertop space.
The Petite Vanity Collection from Aravo by Ronbow fulfills the demand for modern style and functionality within a modest space. Once opened, the vanity features several storage components, including a hairdryer holder and side-door storage.
Overall, the show was a tribute to a more positive industry and a demand for renovation and updates. With more color and customization in our designs, individual clients will see results better catered to their personalities and their desire for happier lifestyles.