NKBA Celebrates its 60th Anniversary with Several Events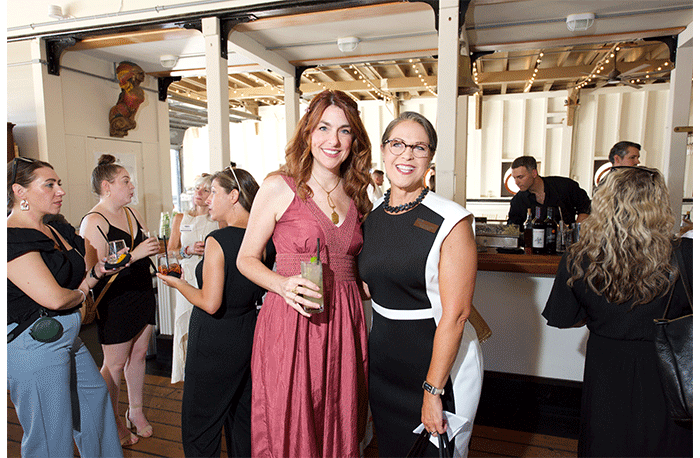 October 3, 2023
A lot of big things happened in 1963. "Surfin' USA" by the Beach Boys was the #1 song, the L.A. Dodgers won the World Series, "My Fair Lady" was the Oscar winner for Best Picture … and the National Kitchen & Bath Association was born. Technically, it was the American Institute of Kitchen Dealers, but it would eventually grow into NKBA, North America's largest trade association serving the kitchen and bath industry and owner of KBIS.
NKBA is unique in that it is an all-industry association, serving the entire spectrum of kitchen and bath market segments – from designers, retailers, remodelers and manufacturers to distributors, fabricators, installers and other industry professionals. As one of North America's largest trade associations with more than 50,000 members, NKBA is laser-focused on community, partnerships and learning.
Above photo: Heather L. Kirk, principal/interior designer, Kirk Riley Design and Paula Kennedy, CMKBD, owner of Timeless Kitchen Design, celebrate NKBA's 60th Anniversary aboard the MV Skansonia on Lake Union at the Olympic-West Sound and Puget Sound chapters 60th Anniversary event.
Photo by Andy Pinnell, Studio 517
"Everything – and I mean everything – we do is designed to enable our members to be the best at what they do," said Suzie Williford, EVP & chief strategy officer of NKBA. "We create programs, off er benefits and provide tools that strengthen their expertise and knowledge while forging partnerships and communities that raise the industry as a whole. This includes research, thought leadership, professional certifications, continuing-education units, summits, government updates and, of course, KBIS!"
And NKBA's 60th Anniversary celebration is no exception. The year-long festivities kicked off  at KBIS 2023 in Las Vegas with a surprise appearance by Kool & the Gang at NKBA's professional Design + Industry Awards Gala. It continued throughout the show with a 1963-themed booth, and at the show's conclusion, it was celebrated with a dedicated toast on the NEXTStage by Williford and NKBA CEO Bill Darcy.
Members Celebrate with Chapter Anniversary Events
This spring, NKBA invited all 71 chapters to participate in a 60th Anniversary Events Competition for the chance to celebrate. This series of 60th Anniversary-themed special events will lead up to KBIS 2024 in Las Vegas from Feb. 27-29. These events are tailored to each chapter and/or region and offer members the opportunity to celebrate NKBA's 60 years of supporting the kitchen and bath industry. In April, after entrants submitted impressive proposals, the association revealed the winners: the Olympic-West Sound, Puget Sound, Northern New England, Mid-Atlantic, Manhattan, North-ern California, Georgia and Baltimore/Washington chapters.
The first of the chapter events kicked off in August with the Olympic-West Sound and Puget Sound chapters celebrating in Seattle. The event was held aboard the MV Skansonia, a historic ferry docked on Lake Union. Next came the Northern New England Chapter's clambake in Norwood, Mass., and the Mid-Atlantic Chapter's event at the Grounds for Sculpture Garden in Hamilton Township, N.J., both also held in August. The celebratory events, sponsored by Signature Kitchen Suite (SKS), featured current and past chapter presidents, prizes and giveaways and highlighted key moments in the history of NKBA and each chapter.
The Manhattan Chapter will have its event, hosted and sponsored by Dacor, on Oct. 26. The Northern California Chapter will celebrate on Nov. 2, immediately following its Design Awards ceremony, with an afterparty sponsored by SKS; another event will take place with the Manhattan Chapter on Dec. 7, also sponsored by SKS. The Georgia Chapter event will take place on Nov. 16 in Atlanta, following its Awards Gala. And last but not least, the Baltimore/Washington Chapter will mark NKBA's 60th birthday on Jan. 18, 2024.
Each month, readers can also take a trip down memory lane when they visit the NKBA 60th Anniversary Landing Page, going back in time to view highlights from NKBA's seven decades. This page features the K&B trends, innovations and cultural events that defined each decade, including some iconic kitchens and baths featured in movies and TV across the years; NKBA milestones; a look at the association's past leaders and volunteers; and weekly giveaways.
And as the association's birthday party comes to an end, the fun is just beginning for KBIS, which marks its 60th anniversary next year. Stay tuned … much more is in store!
By Julia Gillespie, NKBA director of marketing