NKBA Luxury Bath Summit Day 1 Highlights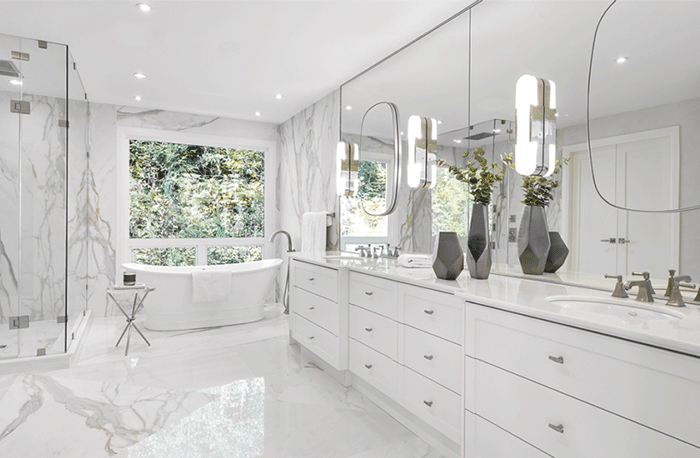 June 23, 2022
That's a wrap on day one of NKBA's Luxury Bath Summit. The event, brought to you in partnership with Cambria and sponsored by House of Rohl, takes a deep dive into what makes a bath luxurious, addresses how to design for clients and more.
Here are highlights from yesterday's panels:
Luxury is the result of seamless collaboration focused on client needs and values. Tricia Zach, NKBA's head of research, explained the key elements that make a bathroom luxurious while addressing the changing role of the luxury bath and how technology is now important to the overall experience.
Every client is different, and customization is key. Christopher Grubb, president of Arch-Interiors Design Group, and Shea Pumarejo, CMKBD, principal designer for Younique Designs, shared their projects and how they've tailored their designs for clients.
Utilizing people's strengths produces great results, and social media management is a must. Garrison Hullinger, founder of Garrison Hullinger Design, spoke with moderator Katherine Given, senior style & market editor for Luxe Interiors + Design Magazine, about how he grew his company, fostered a collaborative work culture and how he approaches the design process.
Don't be afraid of using technology in the bathroom, and future proof it. Blue Arnold, CMKBD, owner of Kitchens By Request, added integrated technology to his client's bathroom that was well-hidden and practical. He recommends adding technology that can be easily used by all.
Natural elements are always a great choice. Elma Gardner, CMKBD, owner & president of By Design Studio, spoke with Pam McNally, NKBA's SVP of marketing + digital, about the standout elements in her bathroom design. These include teak, a Kohler tub that allows for continuous water movement and large windows that allow for nature views.
Bathrooms can emulate what clients love when traveling. Christine Conte, interior designer for Christine Conte Interiors, and Sandra Diaz-Velasco, principal of EOLO A&I Design, spoke with Christopher Wallace, founder & president of InnerView, about how designers can create the hospitality experience in the home for clients. Creating spaciousness and places to lounge and relax are great ways to recreate the feeling.
Tune in today for more exciting Luxury Bath Summit programming from 1-5 p.m. Attendees who join both days receive 0.8 CEUs. For more information and to register, go here.
By Loren Kessell, NKBA