Registration Now Open for KBIS
---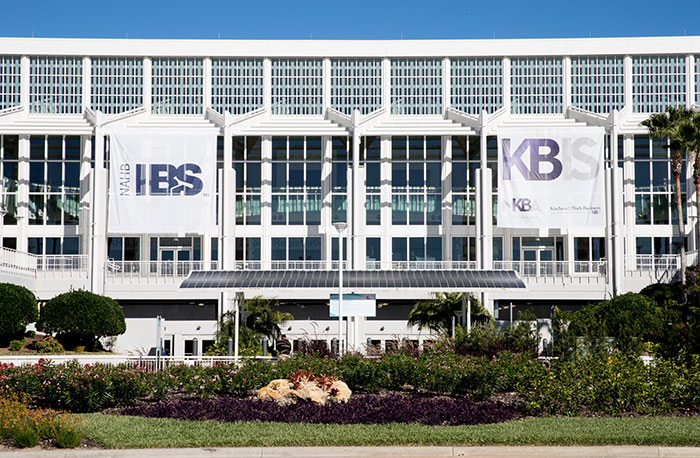 August 1, 2017
Registration is now open for the 2018 Kitchen & Bath Industry Show (KBIS), the destination for kitchen and bath design professionals. Attendees can register online. KBIS takes place January 9-11, 2018 in Orlando at the Orange County Convention Center.
KBIS 2017 saw an increase in attendance of over 15-percent from 2016. It was the fifth consecutive year of growth for the show, and a trend expected to continue into 2018. To date, KBIS 2018 exhibitor commitments are also up, with more than 405,000-square-feet of show floor space sold. KBIS will once again join forces with the National Association of Home Builders and the International Builders' Show® (IBS) to showcase the largest annual event geared toward design and construction industry professionals, with more than 2,100 exhibitors combined.
"This will be the fifth year for Design & Construction Week and the industry continues to prove it is a 'must attend' event. The response from our members and the entire industry after our first year in Orlando was outstanding.  The 2018 show is shaping up to continue this momentum and be even bigger," said Suzie Williford, vice president of industry relations for the National Kitchen & Bath Association, which owns KBIS.  "We're proud to offer free KBIS show floor registration to all of our members during the month of August and hope all will take advantage and register early."
The 2018 show will bring a diverse mix of programming designed to showcase the latest design trends and topics in kitchen and bath. Champagne & Cupcakes, sponsored by LG Home Appliances and Signature Kitchen Suite and hosted by Modenus, will kick things off with an annual toast to a new year for the kitchen and bath industry. Other programs returning include DesignBites, the Hard Hat Media Tour sponsored by Elkay, and two coveted awards programs: the Best of KBIS Awards sponsored by Meredith publications and the Innovative Showroom Awards sponsored by LIXIL Water Technology Americas, the business unit comprising kitchen and bath brands American Standard, DXV and GROHE.  Additionally, KBIS is proud to host the Impact of Design Pavilion Powered by ASID, the first pavilion by the American Society of Interior Designers on its show floor.
The NKBA will launch KBIS 2018 with its much anticipated Opening Party featuring the 2018 NKBA Design Competition awards held at the Rosen Centre.  During the show, the NKBA will present the annual 30Under30 program on the KBISNeXT Stage, and host the Voices from the Industry conference.
The Backyard will return to KBIS in 2018. The outdoor area outside of South Hall will host a selection of outdoor product brands, as well as indoor kitchen appliance brands that want to showcase full product capabilities with live fire and cooking demonstrations.  The Backyard will host a grilling contest and other programming and events, and food trucks and entertainment throughout the show.
"Our first year in Orlando was a huge success. All indications suggest that 2018 in Orlando will be even bigger with several big name brands returning to KBIS or increasing their booth size from last year," said Brian Pagel, senior vice president, Emerald Expositions. "We strongly recommend attendees register early to take advantage of discounted registration and hotel rates."
During the month of August, show floor registration is free to members of the National Kitchen & Bath Association. Expo registration is $50 for non-members during that time. From September 1 through November 10, registration will increase to $50 for NKBA members and $100 for non-members. Fees rise to $100 for members and $175 for non-members from November 11 until January 6.
A full rate schedule for registration is available on the Attendee Pricing page on KBIS.com. To register as an attendee, visit the Registration Portal.