SKS Garners Prestigious Global Design Awards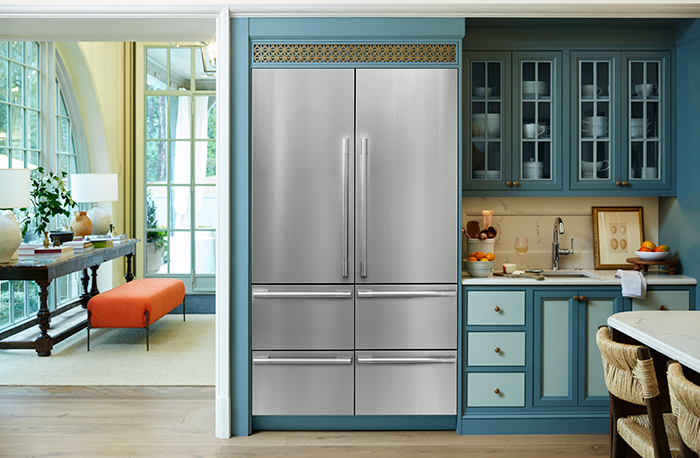 May 16, 2023
Signature Kitchen Suite has captured top global design awards for its new, state-of-the-art Energy Star certified 48-in. French Door Refrigerator. The highly notable Red Dot Design and iF Design Award programs have recognized the refrigerator as a top product of 2023 for its timeless and innovative design. 
The Red Dot Award is one of the most respected competitions for product design, communication design and design concepts in the world. This year, approximately 20,000 products from 51 countries were submitted for the jury's consideration. The 48-in. French Door Refrigerator is the sixth Signature Kitchen Suite product to earn a Red Dot Award since the brand's debut in 2018.  
Following the 2021 wins for the innovative Undercounter Convertible Refrigerator/Freezer Drawers and Undercounter Wine Refrigerator, this year the iF Design Award was awarded to the Signature Kitchen Suite 48-in. French Door Refrigerator in the kitchen appliance category. Held annually in Germany, the iF Design Award is widely viewed as one of the world's top three industrial design awards. This year, a total of 11,000 products were submitted from around the globe, competing for recognition in 76 award categories across nine disciplines.  
In addition to these global design awards, other key accolades bestowed upon this refrigerator include the National Kitchen and Bath Association's "Best of KBIS," the Connected Design "Design Meets Tech" award, a Kitchen & Bath Business product award and Kitchen and Bath Design News Top 20 Products of the Year, among others.  
The 48-in. French Door Refrigerator allows the design community to offer clients unprecedented capacity and functionality in the popular French door configuration, making this product ideal for the replacement of aging 48-in. refrigerators. The refrigerator can match any type of aesthetic, with both stainless-steel and panel-ready options and Signature Fit Integrated Design, allowing for proud or flush installation. This Signature Kitchen Suite refrigerator is the first and only one of its size available in a panel ready model. Designers and homeowners alike will appreciate thoughtful design elements including drawers that line up with standard countertop height for a clean, streamlined look. 
This refrigerator brings unmatched design and versatility to the kitchen with a functional convertible drawer that offers five preset temperatures ranging from 41 to -7 degrees Fahrenheit, allowing for precise food preservation across five temperature settings — chilled wine, fridge/deli, meats and seafood or beverage, or the temperature can be dropped all the way down to make it a freezer. Along with precise preservation, the dual ice maker drawer offers both trapezoidal-shaped ice and slow-melting Craft Ice to elevate beverages of all kinds. Wi-Fi connectivity allows users to manage and monitor preservation needs from their smartphone and ThinQ Care proactively contacts owners about potential service issues before they occur. Additional features include a beautiful full metal interior, dual compressors, adjustable hidden LED under-shelf lighting and exclusive Lift and Go drawers and bins, plus two freezer drawers that allow for more space to keep frozen foods perfectly chilled.