Stone Inspirations
---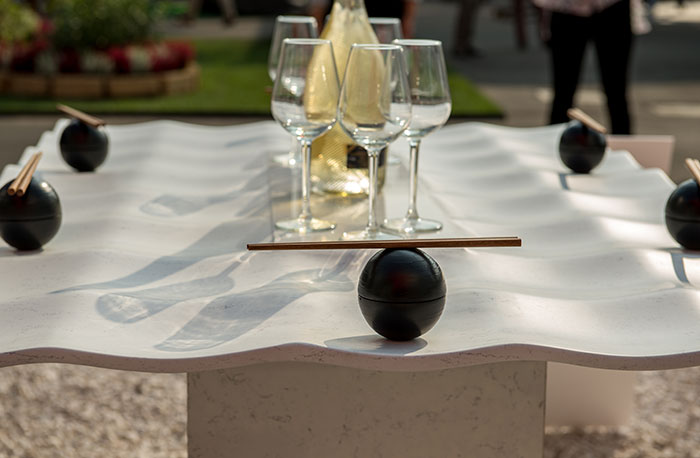 December 12, 2016
The Italian universities of Verona Academy of Fine Arts and the Ferrara University's Department of Architecture recently partnered with Lapitec, a sintered stone manufacturer, to give students the creative opportunity to work with stone. The students had a year to design the projects, and the winning projects – named Taboo, Onda (above) and Quinto Elemento – showcase how technology advancements are propelling forward the stone industry.
KBB spoke with Gino Sartor, marketing manager of Lapitec, to find out more.

KBB: What were you looking for in the winning projects?
GS: We were interested in discovering new uses and unprecedented interpretations of Lapitec – meaning innovative applications that would complement the product's characteristics. In fact, we believe that the university is an important resource, because it is a laboratory of pure ideas that can certainly bring companies new inspiration.
KBB: What were the requirements to enter?
GS: All the students enrolled in the related degree courses took part, either individually or in work groups. Each group then developed an original creative interpretation of the full-body sintered stone's potential, applied to the worlds of design, furnishing and urban design.
KBB: What stood out to you about these winners?
GS: The students managed to bring out new potential fields of use for Lapitec, highlighting the product's technical characteristics. Moreover, the applications have shone a new light on the material's aesthetic and chromatic qualities. For this reason, we were very impressed by the imagination and creativity shown by all the students who took part, and we shall certainly repeat this experience with the world of the university.
Winning Projects

Taboo is a concept developed by the students of the Verona Academy of Fine Arts. It is meant to stimulate reflection on modern lifestyles, which are full of professional and personal commitments and in which the desk is often the hub of our activities. The students of Verona, therefore, thought of tabletop objects with a hexagonal profile that can be used as smartphone stands and cup holders.

                                                                           Winner: Taboo
For Onda, on the other hand, the students of Ferrara have looked to the East, namely to Japan, in search of a creative synergy between the Japanese artistic tradition and the ancient skill of working with Carrara marble. This approach gave birth to a table that revolutionizes the concept of the plane, as it breaks up the top's linearity, creating sinuous waves. The effect creates an impact because it combines dynamism and aesthetic purity, formal simplicity and structural complexity.
Finally, Quinto Elemento is an outdoor application of Lapitec, also conceived by future architects studying in Ferrara. It is a structure that can accommodate flowerpots but can also serve as outdoor furnishing. The sintered stone slabs are modular and fit together in a comb structure. When combined with all the others, the shape of each slab creates a wall with a soft form and a natural and "alive" effect.

                                                              Winner: Quinto Elemento
"The work carried out together with the university was very stimulating because it allowed the students to get to know an innovative material and to take on the processes of creating a prototype," said Sartor. "Today it is increasingly essential for an architect or designer to have a clear idea of the material's potential and distinctive features. For our part, it was a time of great creative enrichment that has certainly become a part of the company's professional wealth."