Style Spotters Return for New Alumni All-Star Edition at Fall Market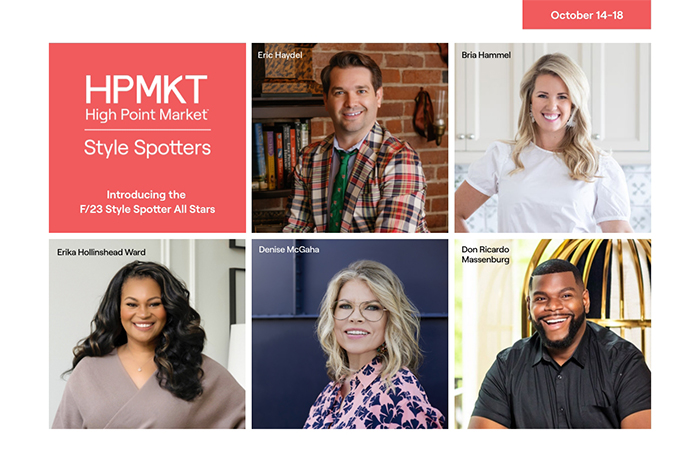 August 1, 2023
In a new Alumni All-Star edition, five Style Spotters will return to High Point Market in October to kick off a new iteration of the trade-only event's enduring signature program organized by the High Point Market Authority (HPMA). 
Interior design software resource Design Manager is this season's sponsor. 
Featuring former Style Spotters Bria Hammel (2018), Eric Haydel (2019), Erika Hollinshead Ward (2016), Don Ricardo Massenburg (2020) and Denise McGaha (2014), these interior design professionals have been tapped to once again canvass the world's largest furnishings trade show for the fall season's best and most eye-catching finds. 
In a new twist, the 2023 team will share their previews of what's to come with social media followers prior to the market. Each Style Spotter will additionally take their turn as host for a new Instagram Live series dubbed the "High Point Market Pulse," to be produced by HPMA at @highpointmarket in September. 
On the ground in October, the Style Spotters will peruse showrooms located across the 13-block Market District, to each choose their five favorite picks among hundreds of new products, one-of-a-kind items, design collaborations and collection launches showcased during the market. Posting to highpointmarket.org following the in-person event, fans will learn more about their selections and the stories behind each piece. 
"The High Point Market Style Spotters program has energized our industry since it launched in 2011, and we can't wait to see what the Alumni All-Star team will discover and share this time around," said Tammy Nagem, HPMA president and CEO. "We challenge our market guests to cover as much ground as the pros do in October and to compare their favorite products with the team's final selections." 
Registration to attend High Point Market, Oct. 14 – 18, is open online.