ThermaSol Announces Design Contest Winners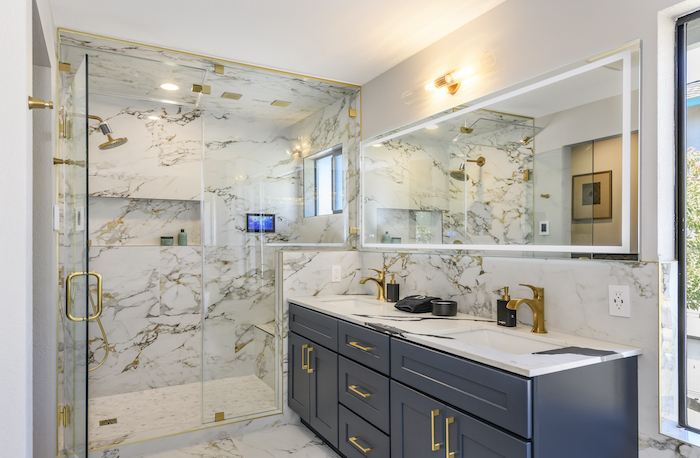 September 28, 2023
ThermaSol, the leader in smart shower, steam and sauna technology, announces three winners of its 65th Anniversary Design Contest. Contestants were required to submit a bathroom design featuring ThermaSol steam and shower products for a chance to win a trip to Austin, Tex., including: a once-in-a-lifetime Formula One Grand Prix experience, getaway spa day, 65th Anniversary celebration and factory tour, as well as gain overall brand and media recognition.
The winners of the ThermaSol Design Contest were hand-selected by a panel of esteemed design professionals. The three design contest winners include Nadja Pentic of Knocknock Design, Roy Heskel of Deluxe Vanity & Kitchen and Alison Cottet of House of Cottet. An Honorable Mention was awarded to Michael Gilbride of Michael Gilbride Design.
"We are so thrilled to have received such outstanding designs in our inaugural design contest," states Mitch Altman, CEO of ThermaSol. "This year marks 65 years of steam and shower innovation for ThermaSol, and to be able to see so many of our products in beautiful, innovative bathroom designs reaffirms our position as a leader in smart shower and steam technology in the industry. Thank you so much to all who participated!"
The 2023 65th Anniversary Design Contest was judged by Sara Malek Barney, ASID, founder + principal designer, BANDD/DESIGN; Josh Cooperman, podcast host, Convo by Design; and Kymberly B. Glazer, director of marketing and sales, DPHA.
ThermaSol Design Contest Winners
Inspired by the Bellagio, Nadja Pentic of Oakland, Cal.-based Knocknock Kitchen & Bath Design created a luxurious spa retreat (above) where her hard-working, single mom client could relax after a long day at work. Featuring a ThermaSol ThermaTouch Control, SteamVection Steamhead and ThermaSol In-Shower Bluetooth Speakers, this primary bathroom melds glam and modern retro creating a bathroom design fit for a queen.
Judge Kimberly Glazer commented on the project to KBB. "The tile is what initially drew me to this design, as well as the attention to detail when it comes to the brass touches throughout the space. From the brass trim around the ThermaSol ThermaTouch Control to the brass ThermaSol In-Shower Bluetooth Speakers and brass Schluter edging, no detail was missed. The navy vanity added a beautiful rich contrast to the space."
Roy Heskel of Van Nuys, Cal.-based Deluxe Vanity & Kitchen transformed this modern farm-style home's primary bathroom (above) into a marble marvel. Included in this space are large format marble tiles, innovative storage solutions and a ThermaSol ThermaTouch Control and SteamVection Steamhead.
Glazer shared her impressions with KBB again. "The vanity space in this bath is jaw-dropping, from the illuminated mirrors and industrial sconces to the marble-accented faucets. The black shower fixtures contrast beautifully against the marble walls, creating an extremely inviting shower space.
For this modern transitional bathroom remodel (above), designer Alison Cottet of Houston-based House of Cottet chose a ThermaSol ThermaTouch Control and SteamVection Steamhead. With her client adamant on adding steam to their walk-in shower, this primary bathroom also received a moody, yet retro upgrade including new tile, cabinets, plumbing, lighting, hardware and paint.
Glazer said, "I loved the warmth of this space, from the wooden wall behind the vanity to the bronze shower fixtures against the dark marble walls. The ThermaSol HydroVive adds a wonderful experience to the space, and I loved that it was placed over the bench so that the user could sit and enjoy the hydrotherapy of the showerhead."
Summing up the judges' feelings, Josh Cooperman told KBB, "It was a joy to witness such diverse creatives masterfully design shower spaces, powered by ThermaSol, the best in the business. Ultimately, the designs selected were chosen for their overall composition, use of materials and delivery of unique, powerfully luxurious spaces. I mean, everyone should have a space like one of these to recharge!"
—By Leslie Clagett, KBB managing editor