Two American Standard Faucets Win 2016 GOOD DESIGN Awards
---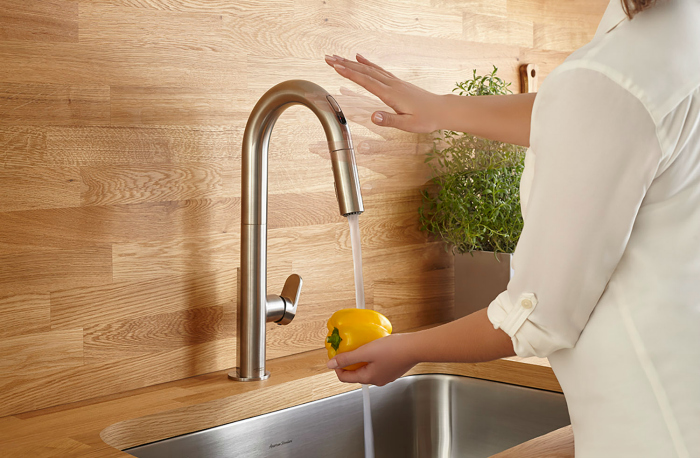 December 28, 2016
Named 2016 GOOD DESIGN award recipients in the Kitchen category for design excellence are the Beale touchless faucet with Selectronic technology and the Edgewater semi-professional faucet, both from American Standard. The award is presented by the Chicago Athenaeum Museum of Architecture and Design in cooperation with the European Centre for Architecture, Art, Design and Urban Studies.
"Earning two GOOD DESIGN awards this year for our innovative new kitchen faucet offerings speaks volumes about the talent and dedication of our incredible product design and engineering teams," said Maha El Kharbotly, chief marketing officer of LIXIL Americas, the business unit under which American Standard operates. "We continually strive to raise the standard in the industry by developing groundbreaking new products and technologies that make life healthier, enjoyable, and more comfortable. Receiving this recognition from such a prestigious institution is a sincere honor and further reaffirms our corporate mission to make everyday life easier for our customers," El Kharbotly added.
Showcasing contemporary design, the Beale touchless kitchen faucet features hands-free control – when desired – with its unique option of switching to manual operation by simply sliding a movable door to cover the sensor. Delivering effortless wave-on/wave-off functionality, this Beale pull-down kitchen faucet helps reduce the risk of cross-contamination in food preparation. Its exclusive Selectronic proximity technology delivers dependable, touchless operation to improve hygiene, while also making it easy to access the faucet when the user's hands are full or dirty.
A blend of clean, geometric styling and impressive functionality, the Edgewater semi-pro kitchen faucet is equipped to help the user efficiently manage common kitchen tasks. Beneath smooth curves and strong design lines, this sleek kitchen sink faucet offers an intuitive four-function sprayer plus pause feature, that put home chefs in full control. The American Standard exclusive SelectFlo patented spray technology allows users to simply toggle down into spray mode and rotate the selection dial to the desired spray pattern.
Each year, The Chicago Athenaeum presents the GOOD DESIGN Awards for the most innovative and cutting-edge industrial, product and graphic designs produced around the world. One of the main factors for the awards selection is based on whether or not a product can enrich society and people's lives through its design.