Waterstone Announces Design Contest Judges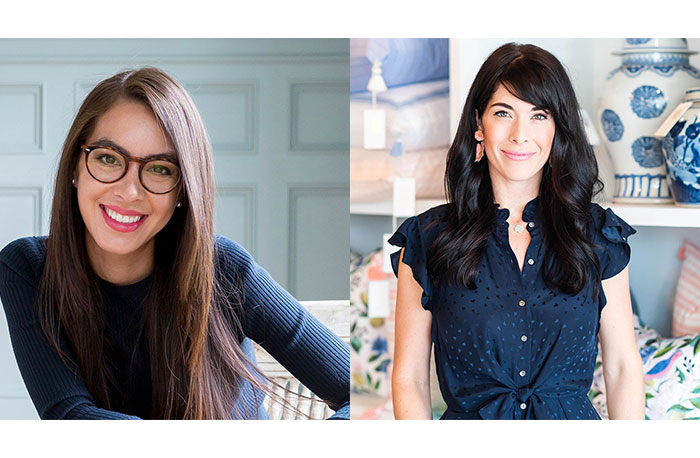 August 25, 2021
Leading Made in America plumbing  manufacturer Waterstone Faucets announces the judging panel for its inaugural Waterstone Design Contest. Designers Cara Fox of The Fox Group and Caitlin Wilson of Caitlin Wilson Design will join Waterstone Founder and President Chris Kuran to evaluate the project submissions featuring the brand's products and honor the designers, architects and builders behind them.
Each of the judges bring a distinct expertise to the panel, which will be tasked with choosing four winners across four categories when the contest ends on November 30, 2021. The contest categories include best traditional kitchen design, best contemporary kitchen design, best mud room or laundry room space, and best bar or butler's pantry space.
Cara Fox is the principal designer and owner of The Fox Group, based in Salt Lake City, Utah. Her classic, timeless style and designs have made their way into features in House Beautiful, Veranda, Martha Stewart Living, Rue Magazine "Best of the West" Designers, two-time cover of Utah Style and Design Magazine, New York Times, Wall Street Journal, and Cottage Journal Magazine. Cara draws inspiration from the past classical designs of European and New England style while keeping a big focus on modern luxury living. Her esthetic and designs are both functional and beautiful, as well as being created to last a lifetime. She works alongside her husband Tom with whom she has built The Fox Group over the past 16 years, together doing architecture, design and construction for clients all around the globe.
Caitlin Wilson is an internationally acclaimed interior and product designer who has trotted the globe from the West Coast to the Middle East. Originally from the San Francisco Bay Area, she grew up with a love for beautiful art and design and started Caitlin Wilson Design in 2007. She launched her textile collection in 2011 and what began as just pillows and fabric is now rugs, wallpaper, furniture and more. Caitlin designs every product with her team in her Dallas studio and flagship store. Her work is beloved by the interior editorial world and has appeared in several magazines and books worldwide. Pattern and color are her forte and the foundation on which she designs her signature interiors and home decor products.
"We are honored that such esteemed design industry leaders have joined as judges of the Waterstone Design Contest to provide their expert insight and creative perspectives," said Chris Kuran, Founder and President of Waterstone Faucets. "I'm personally thrilled to work with Caitlin and Cara on the panel and am looking forward to honoring the incredible work being submitted by the design community."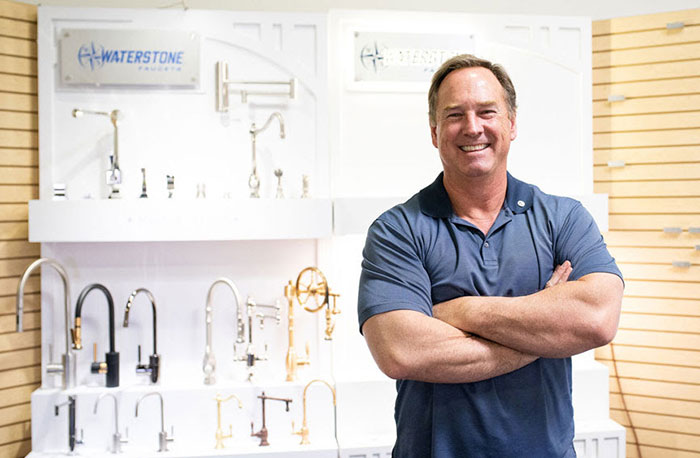 Waterstone Faucets Founder and President Chris Kuran joins Cara Fox and Caitlin Wilson as Design Contest Judge.
Since 1999, Chris Kuran has built Waterstone Faucets to be a leading American innovator and manufacturer of best-in-class decorative plumbing fixtures. He is closely involved in the design, engineering, manufacturing and finishing process, actively lending his vision to product design, often with the effect of elevating Waterstone Faucets to functional works of art for the home. He is responsible for the design of several of the company's signature products — such as The Gantry and The Wheel Pulldown Faucet Suite — as well as its patented innovations, including the 2010 introduction of the industry's first Positive Lock Pulldown kitchen faucet.
Contest entry is free and open to all Waterstone installation projects across the U.S. and Canada. Winners will receive a cash prize, a three-piece faucet suite from Waterstone and promotion across Waterstone's marketing and sales platforms. Submissions are due by 11:59 p.m. EST on November 30, 2021. Winners will be notified by email in December and an announcement will go out January 2022.
For consideration, projects must include:
At least one Waterstone full suite kitchen installation OR
At least one Waterstone fixture installation in laundry room, mudroom, pantry prep, wet bar, butler's pantry or dog wash station in residential projects.
Completed in the U.S. or Canada.
Documentation with high-resolution, professional photography that the submitter owns.
For more information and to enter the contest, click here.