10 Common Decorating Mistakes I See During My Design Consults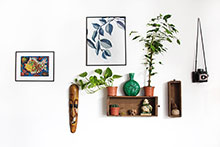 April 5, 2019
by Linda Holt
The internal buzz these days among interior designers is that our livelihood is being seriously threatened. The fact is, the business of interior design is undergoing a seismic shift. Less than 20 years ago, interior design was primarily a service for the wealthy – not so today. Enter HGTV and a multitude of designer furniture online resources.
One benefit to me is that this shift has caused is a big uptick in my "in-home" design consulting services. The clients who call me for a consult simply enjoy the process of decorating their own home. What this new type of client lacks though is design training and experience to pull everything together, and that's where I come in to share my expertise. During the consult, I give them guidance and a road map or plan to complete the space.
After going through more than in-home 50 consults, I have identified 10 common decorating mistakes I see during mine:
1.  Choosing Color FIRST
Without doubt, color is the biggest thing I find people get wrong. Color is not easy, and most homeowners are not skilled in choosing it. One common decorating mistake I see is that the client has chosen the wall color first before anything else is in the room. The problem though is that the homeowner is basically choosing color blindly. Once they move in, they see that the wall color doesn't relate to any of their existing furniture. It's a much smaller investment to get color guidance first, rather than buying new furniture or repainting the walls.
2. Getting the Scale Wrong.Most homeowners know enough to measure the wall length to make sure the sofa will fit, but it's not only the length that must be considered but also the depth and height of the back and arms.
3.  Decorating Around Something You Don't Love.
The problem with this is that the end result is a room you don't love. I am a huge believer that we should only live with things that bring us joy. No matter who once owned it, or how much something once cost (a big sticking point), it's not worth decorating around it and having a room that doesn't feel good to be in.
4.  Over-Decorating or Under-Decorating
Even with the popularity of Marie Kondo's Netflix show and the decluttering bandwagon everyone seems to be on, I often see rooms that are over decorated. It's not my intention during a consult to rid anyone of their stuff; what I can do though is help with editing. It's a fine balance between over-decorated and not decorated enough, but it is something a professional can easily advise on.
5.  Doing Piecemeal Decorating
Often times when I go to a consult, the client is stuck moving forward because they started to decorate without a plan. By the time I arrive for the consult, they have metaphorically painted themselves into a corner. Decorating piecemeal or buying things one at a time is the most difficult way to decorate. Making a plan first with measurements and fabric swatches will ensure that less mistakes will be made.
6.  No Focal Point in the Room
Just as in a good photograph, a room needs a clearly defined focal point. Without one, the room lacks balance and harmony. A common focal point is a fireplace or a wall of windows with a killer view. If the room has no focal point, then create one. A few ideas are an accent wall, a large piece of art, wall shelves or a beautiful built-in. Once the focal point has been established, you can get down to the business of arranging the furniture to feature it.
7.  Always Playing It Safe with Color
Gray, white, greige, cream and taupe are all safe colors and are all very beautiful. The problem is when they are chosen out of fear and not out of desire. It's very easy to add color with pillows, carpets and artwork, but don't be afraid to buy that emerald green sofa or the blue velvet side chairs. I have never once had a client tell me they regretted a color purchase. It's usually just the opposite.
8.  Blindly Following the Trends
Keep in mind that trends come and go. This past February at KBIS in Vegas, the previously popular all-white kitchens were "out," and stained wood cabinets and bold color are back in. Decorate with what your client loves in their unique style and not because of what the design magazines, TV and Pinterest are showing you is currently on trend.
9.  Never Letting Go
GET RID of old, dated belongings that are no longer loved. It is truly life changing and will allow the home to be happier.
10.  Shopping in Only One Store
I have been on two different consults in the past month where the homeowner furnished every room in their home from a single store. Both homes looked lovely, but both reflected nothing about the family who lived there. To give the home a soul, mix it up. Shop not only at different stores but try to incorporate a mixture of new and vintage pieces. Decorate with items that reflect the client and the family and don't let the marketing department of a big-box store dictate the design.
If you have made one or more of these mistakes, please take heart. I will admit to making several of these mistakes over the years in my own home. One of them, mistake #1, I even made twice!