2019 Houzz Home Design Trend Predictions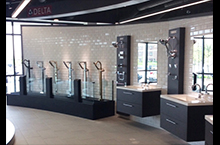 December 21, 2018
New Year's is just around the corner, and everyone is already talking about the new trends that will come with it. From unique materials, exotic inspirations and darker finishes and colors, the professionals at Houzz explained what they anticipate seeing more of in the coming year.

1. Tile backsplash feature wall. Attention-grabbing backsplash tile is nothing new in well-designed kitchens. But what many professionals on Houzz are seeing more of lately is an interest in taking tile from countertop to ceiling – even behind floating shelves and range hoods – to create an eye-catching feature wall. Photo Credit: Caroline Sharpnack © 2017 Houzz
2. Glass and steel room dividers. In recent years, we've observed increased popularity in glass and steel for front doors and shower enclosures on Houzz, and good ideas spread quickly. We're seeing more glass and steel dividers between interior rooms and expect that to continue in 2019. They give an open feeling while still providing some privacy and noise control, along with a stylish graphic element or contrasting color to otherwise white walls. Photo Credit: Jours & Nuits © 2016 Houzz
3. Destination tub. Our Bathroom Trends Report has shown that homeowners debate whether to keep a bathtub following a remodel, but it's clear that those who enjoy taking baths really enjoy it. Couple that with people spending more to increase the size of their bathroom and create a spa-like environment, and you've got some homeowners who aren't just keeping the tub – they're celebrating it. Photo Credit: Chris Snook © 2016 Houzz
4. Black is back. Black isn't a stranger to kitchen design, but we're seeing our community embrace a heavy dose of dramatic color in kitchens. Large swaths of black range hoods, island accent colors and full-on all-black cabinetry have been popping up in the most popular photos on Houzz. In 2019, we'll see black cabinets paired with white walls, backsplashes and countertops for a dynamic and sophisticated contrast. Photo Credit: Fine House Studio © 2018 Houzz
5. Dark and moody colors. As with kitchen cabinets, the dark side is expanding its force in other areas of the home as well. Color experts think it's a reaction to all the whites and bright colors that have long shown favor. Deeper, moodier colors like navy, black and forest green will win over homeowners in 2019. Photo Credit: Alexandra Crafton © 2017 Houzz
6. Furniture benches in the dining area. Built-in bench seating in a dining nook off a kitchen is highly prized for its comfiness and extra storage. We're also seeing the Houzz community bring in bench furniture pieces, which offer an affordable and convenient alternative. It turns almost any dining spot into more of a lounge area, and you can tuck a few storage baskets underneath for blankets, games, place settings and more, giving you the feeling of a banquette without the commitment. Photo Credit: Nick Klein © 2018 Houzz
7. Board and batten exterior. The modern farmhouse look is still going strong throughout the home, but exteriors are also seeing some of that throwback love. The board and batten method of construction delivers that homey look and adds texture and interest to what might otherwise be a flat facade. Photo Credit: Corynne Pless © 2013 Houzz
8. Kitchens that open to the outdoors. Our Kitchen Trends Report found homeowners are increasingly opening their kitchens to the outdoors with exterior double doors. With more homeowners calling the kitchen the hub of the home these days, they look to outdoor areas to expand living space. Large sliding and collapsible doors make it relatively easy to get that connected feeling that blurs the lines between inside and out. Expect to see more kitchens completely open up to decks and patios. Photo Credit: Lucy Call © 2016 Houzz
9. Wood vanities. Wood vanities help bring a large dose of warmth to the bathroom. While wooden vanities have always been popular on Houzz, but what's catching on is a turn toward reclaimed wood or light wood with clear stains that celebrate grain pattern details and knots. Photo Credit: Kelly Scanlon Interior Design © Kathryn MacDonald Photography
10. Four-wall accent color. Painting a single wall a bold accent color different from the other walls in a room was a popular design move over the last few years. Now, homeowners aren't holding back. We're seeing that they are more likely to paint all the walls – even the trim and molding – one solid color. Photo Credit: Jessica Cain © 2018 Houzz
What do you predict will trend in 2019? Let us know on our Facebook page or on Twitter at @KBBconnect.