2020 Kitchen Design Trends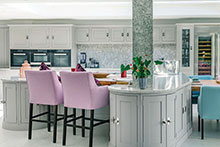 January 3, 2020
According to Julia Steadman, head of operations at Seattle-based Brandt Design, the past decade has seen huge changes in homes, with kitchen design becoming a top priority for essential updates.  
"Striking the right balance among fashion, function, design and desirability is therefore the challenge for kitchen designers in 2020, with a few stand-out style trends already set to innovate next year," said Steadman, who elaborated with three other major trends her firm is predicting for the new year. 
2. Material Mix-Up
There has never been a better time to focus on the chromatic, tactile and decorative identity of the products in the kitchen and how they will impact the environment: aesthetically and economically. Whether you opt for a mix of raw and imitation finishes or commit to one complete scheme, innovation in surfaces is giving us all a new level of freedom in terms of design and material selection. This year will see a rich palette of natural and liquid stone, high-texture leather and marble accent details, balanced by tactile wood finishes and the extremely versatile palette of gray. The 'painted kitchen' has also become a practical choice this year, now offering a modern take on a more traditional look and finish. Great for emphasizing both furniture and architectural detail, gray will continue to be the neutral of the moment, with taupe and light grays through to charcoal and slate gray hitting big in 2020. Offering a new lease on life to the kitchen cabinet, painted furniture when paired with authentic raw materials like marble and concrete will create a durable kitchen environment that is classic in nature yet contemporary in finish. 
3. Hide-and-Seek Storage
Discreet storage solutions like multi-purpose island units with custom seating, built-in appliances and banks of furniture made up of pull-out larders, integrated wine storage and drawer solutions are markers for a functional kitchen space in 2020. Able to establish zonal utility in an open plan, innovations in concealment are set to grow next year, and we expect to see a continued stream of organizational fixtures and fittings designed to maximize storage, improve user convenience and ensure best-in-performance. Interior storage solutions are therefore as important as appearance in 2020, with bespoke storage elements optimizing both kitchen and lifestyle.