5 Ways to Make Any Kitchen a Stylish Sanctuary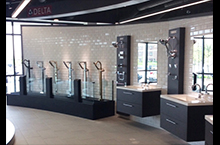 August 17, 2018

You don't always have to shoot the budget to have a kitchen with a unique design statement. You might, however, have to forgo the temptation to emulate the trend of the moment in exchange for investing in a look that is authentically your client's. Instead, inject their own personality, make it versatile to allow for different moods, and you will have something timeless that will always give your client joy. Read on, and I'll show you how.
Own Color
A favorite color is one way to create a personal statement in the kitchen. Perhaps your client embraces all color bright and bold. If this is your cup of tea, allow yourself open space and glass-front cabinets to show your client's true color in all its glory. I recommend keeping the fixed elements such as flooring and countertops neutral, so you can play more with color in ways that are versatile. This would include paint, dishes, artwork and decorative items. A nice, crisp white is always a great backdrop to vibrant hues. If your client has an adventurous soul, create a focal point like a beautiful backsplash using their favorite color. Just keep it over one area, such as the stove. Less is more, and you don't want to dilute the power of the statement.
Embrace Architecture
Believe me, I have tried to "correct" a room. Sometimes you can, but often it just doesn't work. I have had much better results when I embrace the fixed conditions I am faced with when creating a new design. These issues can include angles, bump outs, ceiling height differences and the age and era in which a home was built. Your client's space should look like it belongs. This happens when you match the style of your design to the home. In fact, I always try to look for clues such as arches and fixed architectural elements that I will repeat in the design. If the kitchen "goes with" the home, it will always be right.
Go Within
The way you customize the cabinet interiors is always based on the way your clients live. Think about it. Is there one particular item that just doesn't have a home with enough space in the kitchen? It could be food storage containers, pots or even trash! It's different for everybody. Even if they have a small kitchen you can maximize function.
Customize Work Centers
Every kitchen has a work center for food prep, clean-up and cooking. Sometimes in small kitchens they overlap, but those are the basics. Add touches to customize your client's kitchen. Think media center or beverage center to house coffee or tea and accoutrements. How about a pet center? It could be as easy as designating a certain space or cabinet and tricking out the inside. It can be planned in a new kitchen or created in your existing space.
Artful Detail
Artful detail can literally be art such as paintings and sculpture, but it can also be beautiful handmade utilitarian items, family treasures or books. If you have the room, I encourage you to try and leave some open space to display such items. This is perhaps the easiest way to make a neutral space very personal and joyful to be in.