A Day of Discovery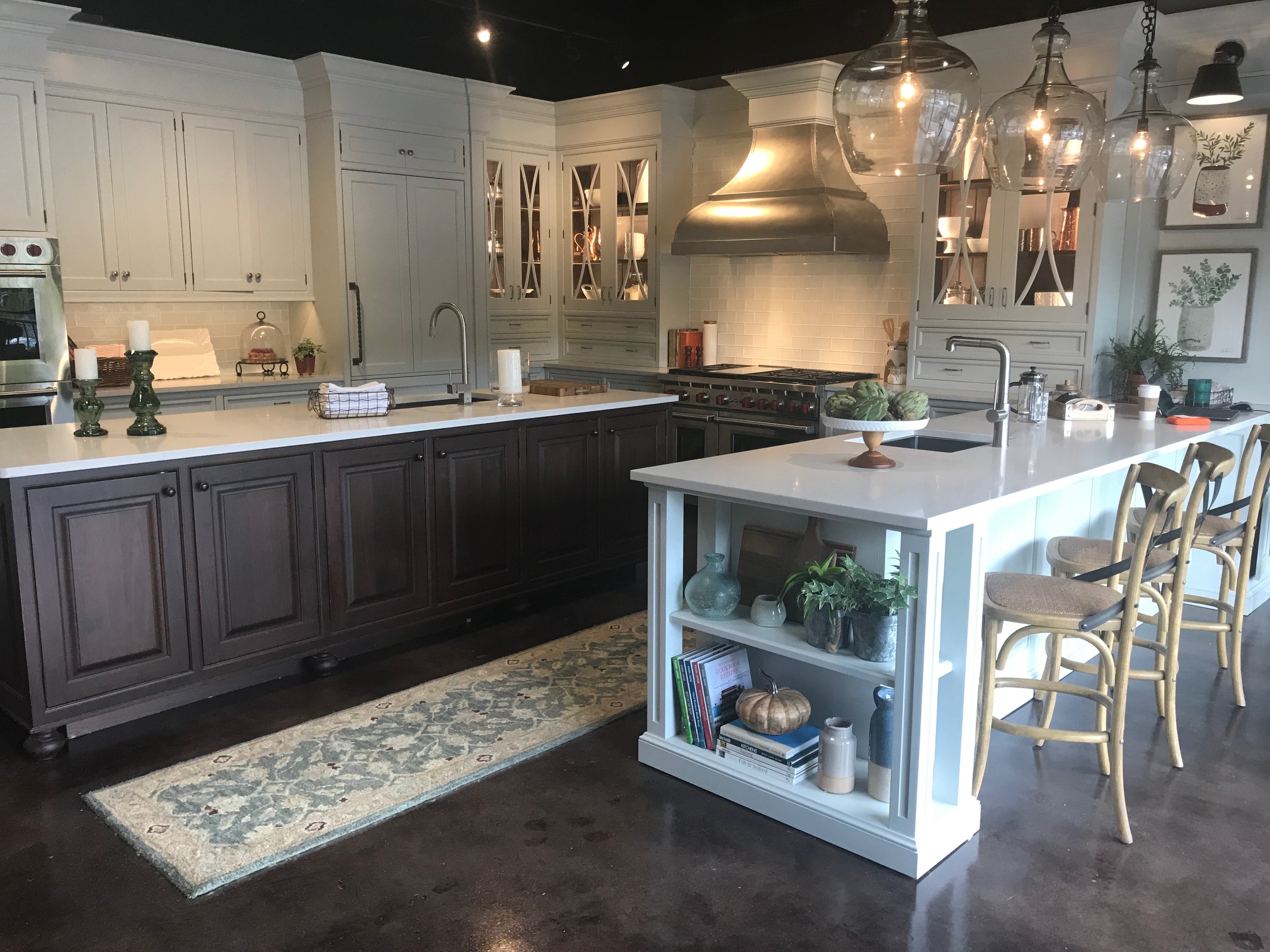 September 28, 2018
The Atlanta Decorative Arts Center (ADAC) recently hosted one of its main annual events – DISCOVER ADAC – which was a three-day program that included product launches, educational and inspirational discussions and showroom openings for the design industry. KBB was there to tour the newest showrooms and check out some that had been updated.
The Pedini showroom
Our first stop was to the Pedini showroom (Suite 226), which was in the process of opening when we visited last year. It was nice to be able to see everything out of the boxes and on display. The space features many of the company's kitchen lines, as well as furniture. What's new for Pedini is a thermo-structure laminate used on the cabinets, which allows a wood pattern to be embossed onto the laminate. This is more affordable than using a real wood veneer, and it doesn't react to sunlight.
Pedini's cabinetry takes five to six weeks in production and then three to four weeks to ship, and the audience it serves in Atlanta is made up of predominantly empty nesters. The company is furnishing 57 condos in The Charles, which will include the kitchens, bars and laundry rooms.
Dolce Décor
Next, we visited Dolce Décor (Suite 210), where there is a Milan-based partner – Andrea Bassoli, a dealer of fine Italian furniture and lighting, who sends the products to the Atlanta showroom and partners, Regina Storino and her son, Michael Gibbs. The products in the showroom, most of which are original with just a few repliaces, are made by mid-century modern Italian designers for the Southeast's architects and designers.
German Kitchen Center
The German Kitchen Center (Suite 208) didn't have any updates, but it will soon be changing out some displays to introduce the 2019 collection. The plan is for 60 percent of their offerings to be furniture. New to their lines is color blocking with butcher block and steel veneers. The company also specializes in customized closet systems with such elements as sliding glass doors. The showroom assists homeowners, architects and contractors with kitchen design, remodeling and installation.
Myran Allan
Next up was Myran Allan (Suite 420), a new 2,300-sq.-ft. space filled with luxury lighting, and it is the only dedicated lighting showroom at ADAC. Lighting brands on display include Tech Lighting, George Kovaks, Access Lighting and Elk Lighting and Lamps, with some domestic lines for the kitchen and bath, and the showroom will also feature a collection of furniture and accessories to complement the lighting.
Habachy Designs + Atelier
Habachy Designs + Atelier (Suite 422) recently opened its 2,138-sq.-ft. showroom with a Nordic/Scandinavian aesthetic, and visitors can browse and shop curated collections from various furniture and lighting makers, including Faye Toogood from London; Fredericia, by Lassen, Overgard and Dyrman from Copenhagen; DCW Editions, Gilles Caffier and Temps Libre from Paris; Alphenberg Leather from Amsterdam; Amuneal from New York; and Ridgely Studios and NEFF from Canada. The company, which caters to high-end residential clients with new builds or who want to undergo major renovations, also has its own line of tile in partnership with Tilebar.
An updated display at Design Galleria
We were extremely excited to visit Design Galleria (Suite 234) and see designer Matthew Quinn's new displays – and he was there in person to show us around! In addition to designing kitchens, Quinn also loves to design products, and he has worked with MTI Baths, AKDO, La Cornue, Wolf/Sub-Zero, Julien, Sun Valley Bronze and Francois & Co. – just to name a few. He will soon have a new range coming out for La Cornue – as well as two new colors – and a new hood for Francois & Co.
Matthew Quinn's Social Corner Sink for Julien
Quinn said the manufacturers usually ask him for two designs, and he usually comes out with 10. He admitted that sometimes he wishes product design was his full-time job, but he needs the experience of overcoming project challenges. Quinn said if there was ever a color to steal the market share from white, black is it, and he suggested lighting things up with ample windows and natural light, stainless steel and wood floors.
Wood-Mode's selection center
Last but certainly not least was Wood-Mode's new 2,500-sq.-ft. space (Suite A5) that just opened at ADAC. The design center, which is in addition to the company's Chicago location, serves as a resource to homeowners and trade professionals. The space displays cabinetry in traditional and more Euro-contemporary styles – a new direction in which Wood-Mode is going. The company is known for its dedication to customization – even transforming a clothing rack into linen storage. The new showroom offers a selection center, where visitors can choose hardware, moldings, colors and finishes.
Wood-Mode's Embassy Row cabinetry line