A Work of Art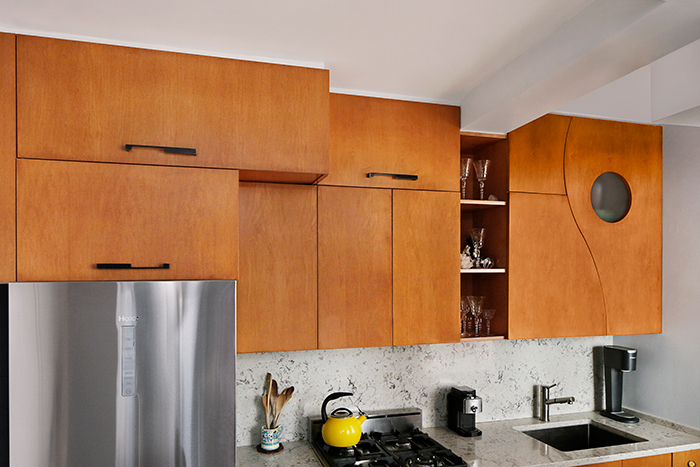 December 23, 2020
I believe in using the whole world of art as inspiration in kitchen projects. I also have a great affinity for architecture, sculpture and movement, and my work style as non-linear; it is more about the arrangement than a single design element.
For this kitchen, the clients came into my store after visiting my website, knowing they would get something different than a cookie-cutter design. They are progressive New Yorkers who resist and reject staid and cliché reinterpretations. They said basic modern looks like a tiny airport and asked who wants to come home and feel like you have to get to your gate.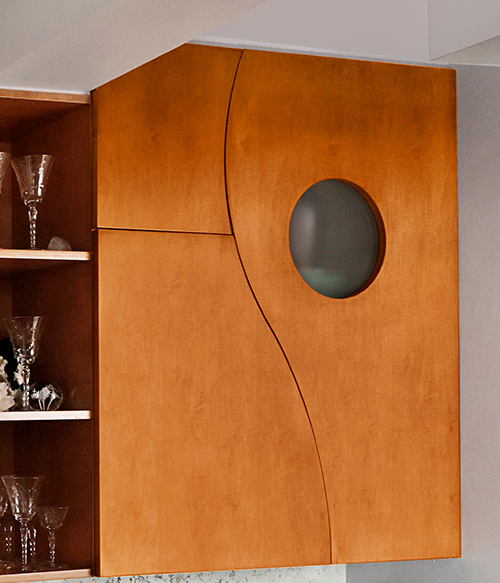 Photo by Kitty Dadi
My portfolio is based on the Fibonacci Sequence, producing the 62% Golden Proportion along with the biophilic shapes of nature. Cabinets can be more than mere boxes. By crafting geometry with nature, they attain the artfulness of three-dimensional sculpture.
The wider top cabinet appears as a strong arm lightly on the shoulder of the secondary middle section, leading the eye to the right to unify the composition. The beam and refrigerator set the boundaries – they are not the feature. The multiple depths create movement and vitality from the deeper refrigerator cabinet, to the shallower stove cabinet to the beam. The open shelves offer calm before the crescendo focal point.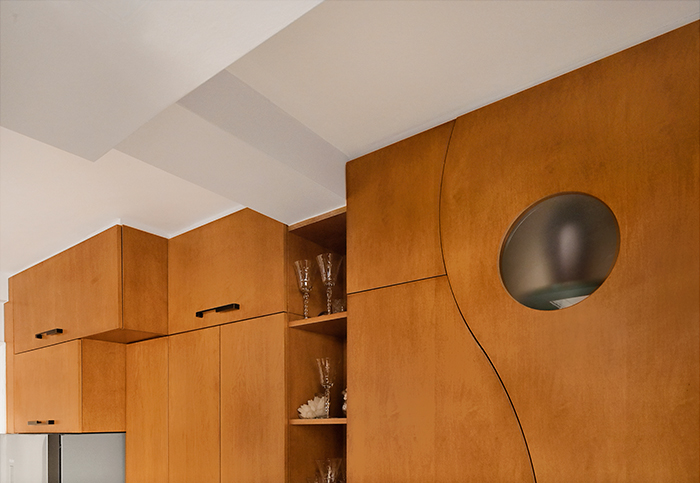 Photo by Kitty Dadi
If individual cabinets were placed directly over the refrigerator and stove, the powerful horizontal thrust of the overall sculpture would have been nonexistent. Horizontal is the only feature of this narrow galley kitchen. It is my response to the customer lament: "I have a tiny kitchen, and nothing can be done with it."
As Picasso said, "Art is to seek not to find. To show what I've found not what I was looking for." The precise size of horizontal and vertical rectangles, including the placement of lines and varied shapes – specifically the harmonious circle and swerve – captivate our innate emotions.