An Inside Look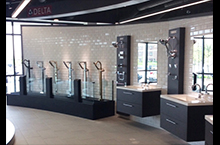 September 20, 2018

This past week I traveled to the small town of Hershey, Penn., which is not only the home of the great American chocolate company, but it also is the close neighbor of another American company's factory and headquarters. Wood-Mode Fine Custom Cabinetry, based in nearby Kreamer, Penn., also started with humble beginnings: just four woodworkers and a dream. Now with about 1,200 employees in its factory, Wood-Mode boasts the ability to turn out high-quality cabinetry in 8-10 weeks and offer the same customization and handcrafted abilities as a small neighborhood shop.
While touring the more than one-million square feet of factory space, our small group of journalists saw how the process starts, from drying the lumber itself, inspecting the planks and determining where each individual place will serve its purpose best. We spoke with several employees and learned how the factory, large as it is, is still considered a family business – many employees are second- or third-generation workers. Many of their skillsets take more than six months of training, including hand-glazing, inspection and the actual building and technicalities of the cabinetry.
I love hearing the histories of the manufacturers we work with; this one in particular felt like a uniquely American story. In 1942, steel and other resources were being diverted to the efforts fighting in World War II, so four salesmen from Whitehead Monel Kitchen Company, which sold metal cabinetry, decided to start their own business. While they started as Wood-Metal Industries and wanted to make residential cabinetry, they instead began operations serving the U.S. military and made cooks' tables, pigeon coops, shall cases, ladders and Signal Corps radio cases.
Radio cases for use in the South Pacific had to be sealed against fungus and waterproofed with as many as 11 coats of varnish to withstand extreme climatic conditions. This was the beginning of the company's reputation for its durable, fine furniture-like wood finishes.
After the housing market boom after the war, the company changed its name to the more family-friendly Wood-Mode Cabinetry to reflect its loyalty to its customers. The company then rededicated itself to making cabinetry and perfected the process of both mass-producing cabinetry and giving it the same hand-crafted treatment as a small local shop.
"We have a saying around here that each piece is touched 1,000 times before it's given to the customer," said Brooks Gronlund, president and chief operating officer of Wood-Mode, emphasizing that this family business entering its 75th year still holds on and continues to improve upon its custom touch.