Anchors Away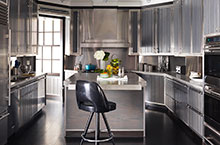 January 11, 2019

One client moving to Manhattan's Upper East Side was prepared for the small size of her kitchen – only 80 square feet – but she was not satisfied with the dingy and depressed style of the space. New York City-based Anik Pearson of Anik Pearson Architect and interior designer Burt Wayne from Wayne & Doktor collaborated on this renovation, which would draw inspiration from a luxurious type of small space.
Working Towards a Common Goal
"Burt and I met a few times to share our ideas and our inspiration," said Pearson. "We both dreamed of a kitchen made of stained wood boards, in a glossy gray stain with stainless steel hardware, which we were both convinced would look great together."
The interior designer had worked on several projects for other family members of the client. According to Pearson, when the family asked for something specific, Wayne would want to create something truly unique out of their requests.
"He saw himself as an artist," said Pearson, who added that Wayne claimed he found architects difficult till he met her. "Together we worked extremely well as a team and operated with mutual respect. This is turn delighted the client, who found the process enlightening and gratifying."

An Unusual Inspiration
Wayne had begun his career in fashion and had worked with fashion designer Anne Klein. He admired everything about her taste and style, especially her apartment. Klein had installed ornate fully-height cabinet pulls in her kitchen, which turned out to be coffin handles.
"While I was inspired by this full-height pull idea, Annie – as Wayne called her – had already 'done' coffin handles," said Pearson. "I preferred to come up with my own idea, while also steering away from any morbid associations."
She found another similar idea in an unlikely place: a yacht catalog, which included stainless steel boat rails. These rails are designed for durability in a harsh marine environment and could be ordered in any length, with any assortment of stanchions, fittings and end caps.

Designing the 'Vessel'
Using freehand for the initial drawings and AutoCAD for working drawings, Pearson and Wayne opened up the kitchen to the breakfast room, gutted the spaces and laid out the new kitchen like the interior of a yacht. The team chose a maritime palette of wood, concrete and stainless steel.
The custom hardware – the initial inspiration for the space – reflects the nautical theme with extra-long handles and pulls. The exposed-screw, L-shaped strap hinges add to the crafted feel of the space.
"A boat is an extremely well-designed craft, both in form and function," said Pearson. "It is also a beautiful space, just like this kitchen."