Appliance Sales and Service During COVID-19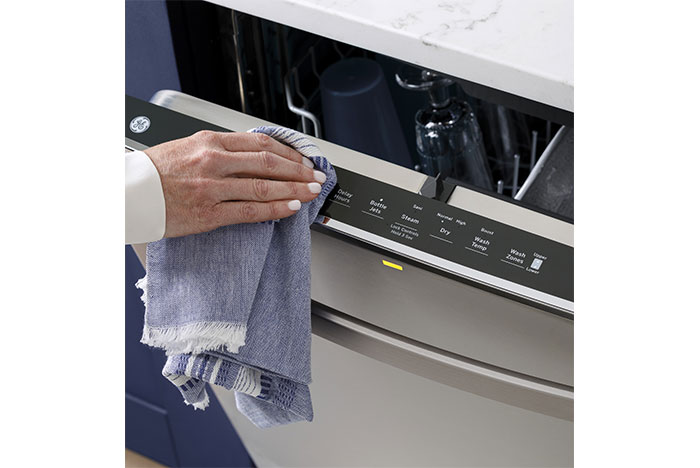 April 23, 2020
I had the opportunity to talk to kitchen and bath industry brands recently about the effects COVID-19 is having on business and their appliance sales and service. I wanted to find out if there are spikes in appliance sales caused by the pandemic. I learned that not only are freezers moving very quickly, but they are even out of stock in places. People are buying frozen food and stocking up because of the pandemic. Washers, dryers and dishwashers are also moving very quickly because we're all using them more and they're breaking down. Now that everyone is at home, we have a need to clean and sanitize our dishes and clothes more often.
In terms of appliance sales, local big-box stores in my area are delivering and installing washers and dryers, but there is currently a two-week queue. I asked about precautions related to the coronavirus, and I was told that delivery and service people wear gloves and masks. Some small appliance dealers are not only delivering and installing appliances, but some are upping their game with videoconferencing. It's becoming a preferred way to display, demonstrate and sell appliances.
Going Deeper
People are using their kitchens more, and they're seeing more failures. According to Barry Bredvik, national director for Signature Kitchen Suite/LG for builders, 70,000 appliances were dying every day before the pandemic, so that number is certainly higher now. No one can afford for their refrigerator to go down during this time, because your food can go to waste. LG is ramping up freestanding refrigerator manufacturing since built-ins take longer to replace and usually require professional installation. Steve Sheinkopf, CEO of Boston-based Yale Appliance, reports that freezers are moving very quickly; his company sold between 70 and 80 in one day in the early days of the pandemic.
Getting Clean
"Sanitize," according to Merriam-Webster, means to make something free from dirt, infection, disease, etc., by cleaning it. High water temperatures and steam are the best way to sanitize dishes and clothing. Signature Kitchen Suite includes a steam generator in its higher-end dishwashers and in washing machines. LG offers a unique product called the Styler, an appliance that cleans, refreshes and sanitizes clothing, down pillows, pet toys and more using steam technology. The steam temperature reaches 212 degrees inside the Styler, and 160 degrees is high enough to kill bacteria. GE Appliances just introduced a new feature for dishwashers, washers and dryers called Sanitize Cycles. According to the company, this new feature adds a layer of germ protection by reducing 99 percent of the bacteria commonly found on dishes and home laundry.
Virtual Business
Appliance shopping has changed, according to Sheinkopf. "People who used to work from showrooms now work remotely, and consumers are buying online so we now use live-feed video conferencing for sales," he said.
Sheinkopf thinks that people might still come to a showroom in the future for things like a cooking demonstration, but virtual business is where things are quickly headed. Bredvik agrees and said that his company's dealers are using FaceTime and Zoom to demonstrate products over the web.
Change Can Be Good
The way we do business in the kitchen and bath industry is varying, sometimes from day to day depending on location and circumstances. This includes throughout the supply chain from manufacturing to the delivery of parts. Designers are producing residential projects in ways never considered in the past. We are seeing big changes in the way we connect with customers, the way we demonstrate products and even in our work schedules and home offices. More big changes within the kitchen and bath industry are not only possible but probable.
-By Scott Koehler