Appliances Picks for a Kosher Kitchen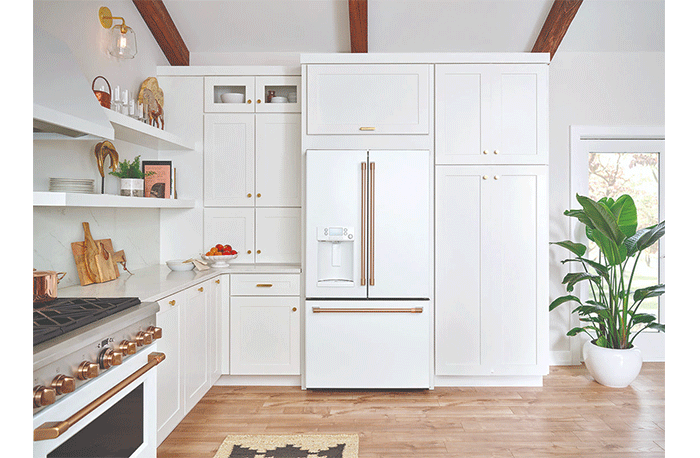 September 27, 2021
Entertaining is more effortless than ever before with modern kosher kitchen appliances equipped with Shabbos Mode and STAR-K certification. In addition to keeping meals warm and ingredients fresh during Shabbos and Yom Tov, these appliances offer incredible features for cooking and entertaining.
Here are some kosher kitchen-friendly suggestions from Jessica Petrino, educator and appliance expert at AJ Madison, a family-owned online kitchen appliance retailer
1.     Café 36-In. Counter-Depth French-Door Smart Refrigerator
This refrigerator is compatible with the Shabbos Keeper accessory. This fully automatic mode goes above and beyond any other option that has been available in the past. Appliances with the Shabbos Keeper accessory are 100% kosher certified by the OU and CRC with a built-in Jewish calendar up to year 2050. This refrigerator comes with an external ice and water dispenser with an option for hot water, a plethora of smart appliance features like remote control and monitoring and is available in three finishes: stainless steel, matte black and matte white. Shown above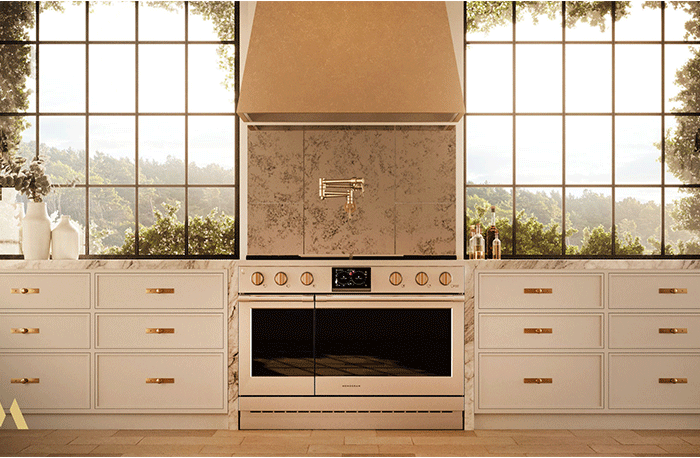 2.     Monogram Statement Series Professional Range
Monogram Statement Series of ranges offers a full collection of appliances with beautiful brass accents. With two ovens below and a total of 8.9 cubic feet of capacity, this range offers ample space to cook for large groups. Plus, the air -ry feature is a great for frozen appetizers and kids' snacks. For a touch of personal style, LED ring-lit knobs offer custom color LED accent lighting through the SmartHQ app.
3.     Dacor Freestanding 4-Door Refrigerator
Dacor's 36-in. Counter-Depth French-Door unit with Dual Reveal doors is a luxury freestanding refrigerator. Its beautiful design offers a built-in look with French doors that open up to reveal enough room for large platters, perfect for entertaining in a kosher kitchen. The lower-right storage space can serve as a refrigerator or a freezer, depending on your needs. Designed with Dual Reveal doors, FlexZone storage and a Triple Cooling system, this refrigerator gives you more control over your space and fridge contents.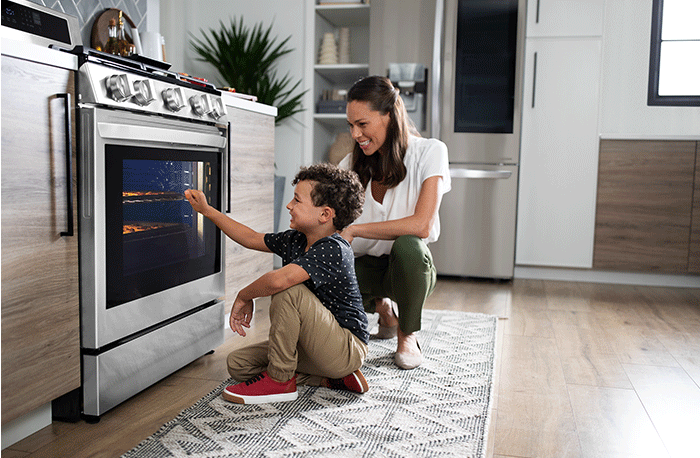 4.     LG Instaview Range with Air Fry and Air Sous Vide
This range from LG is feature packed and affordable. A built-in air-fry mode with convection delivers fried flavor and crunchy texture with 80% less guilt. Air sous vide uses precise, low temperatures and airflow around vacuum-sealed food for tender, juicy results. With the InstaView door, you can keep an eye on what's cooking without opening the oven door. This range comes equipped with powerful gas burners and a convection oven. A warming drawer keeps food or dinner plates at the perfect serving temperature, convenient for cooking multiple dishes simultaneously.
5.     Samsung Bespoke 4-Door Refrigerator
Design your own custom refrigerator with the Samsung Bespoke Collection. Mix and match affordable modular refrigerator styles to fit your kosher kitchen design. Customizing your fridge is easy, simply choose your refrigerator size, shape and color. Bespoke color panels are removable so you can change the color of your fridge over time. Choose from eight colors and two finishes to create a fridge that fits your style.