Architectural Salvage as Design Inspiration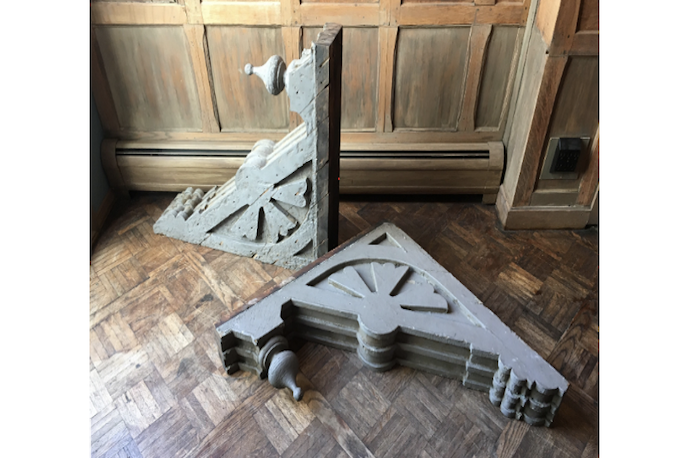 June 26, 2023
This article was originally published on June 26, 2023; it was updated on July 5, 2023.
There is so much history in a home – from the materials used to build it, the styles of the year it was built, or the way it has been designed and re-designed by different occupants since its inception – no two homes tell the same story. While we at Interiors by Popov often advocate for a minimalist modern aesthetic, when working on period homes, or spaces that have out of the ordinary architectural features, like high ceilings, archways or full-length windows, we also encourage clients to incorporate a little history into their home. Using architectural salvage pieces offers a nod to the time period your home was built and allows you to enhance the existing architecture, while adding an extra layer of character to the space.
Next, you will want to lay out the items previously placed on the shelves along with any new items you have selected. Do you see any commonalities like color, texture, or size? If so, make mental notes (or actual notes if it helps!) of these trends. Also try to imagine these items placed on the shelf in terms of height and width, and attempt to maintain a variation in sizes. Here at Interiors by Popov, we love to use decorative vases, bowls, or sculptural items; personal photos, books, or travel memorabilia; and we even like adding lamps if the shelves do not have existing backlighting. The right lighting can add a fantastic ambience to the room!
High-end, modern designers are known for being sympathetic to a building's heritage. This sometimes means finding ways to blend items from aesthetic movements that are decades or even centuries apart. It almost always creates very interesting results when carefully curated. In this living space from Athena Calderone (above), we love that the architectural features are all painted one color, allowing the fireplace to be the star. Modern furniture selections are set off by an antique gilded, full-length mirror, balancing those beautiful, black-framed windows.
Designers often look for antique architectural features like corbels, windows, doors, beams, arches, mantels, ironwork and reclaimed wooden flooring. Finding something beautiful can be the inspiration for a whole room's aesthetic. Take a look at these high, arched doors from English Salvage (below) for example, we can imagine many ways to design an amazing interior around these striking pieces.
To get inspired, visit local antique shops and architectural salvage yards. In the Seattle area you can try Ballard Reuse or Earthwise Architectural Salvage or shop online at Etsy or Ebay. One option is to incorporate old corbels painted in with the wall color to create an interesting entrance. You could take reclaimed oak beams, re-finish them, and add them to a monochrome space to create a warm contrast. Even keeping the oak beams as they are and placing in a modern Scandinavian inspired living room will be a conversation starter.
Incorporating salvaged architectural items can pull your home away from a cookie-cutter look and individualize the space for a higher-end aesthetic, establishing a modern take on retro styling and giving your guests something to talk about.
—By Anna Popov, founder and principal designer, Interiors by Popov
Top photo: Etsy