Balancing Business, Creative Pursuits and Life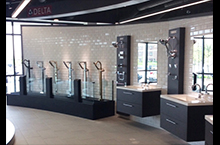 August 8, 2019
By Lauren Clement, Lauren Nicole Designs
Being a small business owner certainly has its perks as well as its challenges. I was taught from the very beginning to be structured in knowing where your money is going. For example, a profit and loss statement per job was a requirement for me in the beginning, and in those days I actually did it with pen and paper! By calculating the cost of the job plus business expenses, I became aware of every dollar spent to make sure from the beginning that I was profitable and could afford to continue to grow my business. About three years into my business, the next step of growth meant hiring my first employee – an office assistant – who came with a new learning curve and set of issues. Finding the right people, training them and then maintaining them has proven to be one of my biggest challenges yet.

Hiring Help
When it is your baby, this business, no one will ever do the job or love the job the way that you do. So turning over any kind of responsibilities is just plain hard to do. However, I knew I had to let go of some of the day-to-day office tasks that were impeding me from being with clients, which is where I am the most valuable. Yes, I have been through many assistants and several project managers, and I have found that I have had to bend and adapt while training staff just as they have to bend and adapt to earn a spot on my team. It has truly been my biggest struggle to have hired people into my business. On the other hand, I have found this to be one of my biggest opportunities for growth.

Making Relationships Count
Vendor and subcontractor relationships have been another hurdle in building my business. There were times where I wanted to learn how to paint, to be an electrician or to lay tile because I just knew that I had more sense than those tradesmen did. They just continued to take me on a rollercoaster of work from job to job and I was ready for more consistency. So I found a small group of people who showed almost as much concern for the process, the end result and the client's happiness, that I continued to give the guys business. Because they were taking pride in their work as well as my business, we have all been very successful. 


Putting Effort Into Marketing
The last aspect that I think is crucial to any business finding success is marketing. My advice here is fairly straightforward: You are your own biggest cheerleader and your best representation, so make sure that you are at every networking event, every organization meeting, handing out your cards to everyone who will listen, that you are staking your claim by taking and photographing every job that comes your way and blasting it to the social media crowd to build your name, brand and portfolio. You simply want to be top of mind when someone needs your service.
At the end of the day, I always remember that this is a business and a career path that I am truly passionate about, and no matter what the challenge is, there is always a solution. When it comes to renovation work, the in between is a mess, and it can be difficult to picture the beautiful transformation until you see it with your own eyes. The struggles and challenges along the way are the stepping stones to maintaining a successful business.