Barndominiums – What Are They?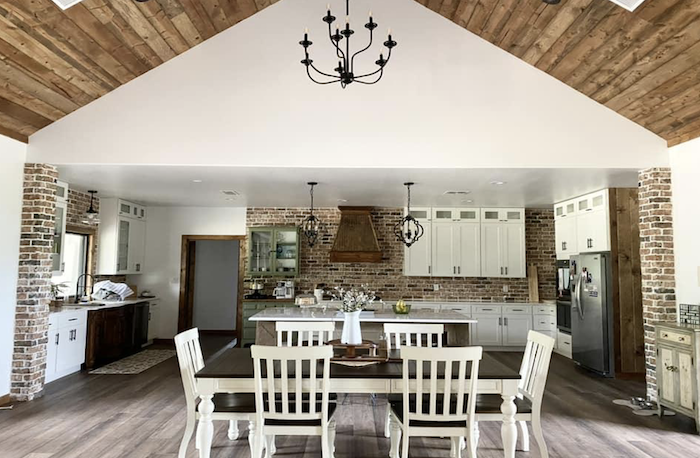 July 17, 2023
Barndominiums – What Are They?
This article was originally published on July 17, 2023; it was updated on July 25, 2023 and September 11, 2023.
If you have been out of the loop about recent developments in alternative housing solutions, let us fill you in on all the buzz around barndominium homes. Barndos are gaining popularity among new homeowners because of several key advantages. They are versatile buildings highly customizable to the owner's specs, and they can be built quickly and cost-effectively compared to traditionally constructed houses.
Barndominiums are barn-like buildings that are usually built on steel frames. They have all the features and benefits of a traditional stick-built home without the high cost. These buildings do not need load-bearing walls, resulting in an open interior space you can customize however you want.
For homeowners who want to customize their kitchen layouts, features and design elements, barndominiums are perfect because of the wide range of custom features that can be incorporated into the kitchen. A well-designed kitchen layout is both aesthetically pleasing and functional. This article will discuss barndominium kitchen design ideas that consider form and function.
Barndominium Kitchen Design
At first glance, the kitchen serves a fundamental function – it is where meals are prepared – but the kitchen is far more than that. For starters, it can be a place to get work done on a laptop on the island. While you're working, the children can do their homework, too. Kitchens can be a place to entertain guests – a space where family and friends can gather and share good conversation while helping with food preparation. Or it can be a place to enjoy drinks and hang out. The beauty of barndominium kitchens is that they can be as spacious as you need them to be.
In addition, kitchens can also be a platform to showcase personal style through interior design elements such as cabinetry finishes and countertop materials. Kitchens can serve the following multiple functions beyond cooking.
Functionality: Layout
The kitchen is a working space. The layout of a kitchen helps with the efficiency of the workflow, as well as the kitchen's harmony with other parts of the home. A good kitchen floor plan is tailored to the owner's needs and those of their family.
Let's start off with some layout ideas you can consider for a barndominium kitchen.
Open Plan
Open layouts are popular because they create a seamless flow among the kitchen, dining room and living areas. This allows the family to enjoy each other's company while taking on different activities.
L-Shape Plan
An L-shaped kitchen island can create a clear border between the kitchen and living space. This way, the owner can benefit from an open layout while clearly separating the kitchen area from the other parts of the house.
Compact Footprint
A compact and simple layout can work well for folks who don't need many appliances and kitchen features. If you don't have much space to work with, a compact layout can work best. Sometimes, a tight but clutter-free working space makes an individual more productive.
Bar in Front and Center
It doesn't get any more functional than a bar in front of the kitchen island. This allows the homeowner to entertain guests with drinks while whipping up a meal they just mastered. There are other functional features you can consider for the kitchen, such as a storage or pantry room with sliding doors.
Barndominium Kitchen Aesthetics
Now that we have looked at layouts that cater to function, let's go over aesthetic features you can incorporate into a barndominium kitchen. Below are some style suggestions for a custom kitchen.
Exposed Beams and Stone Bricks
Exposed beams and stone give the kitchen a warm rustic feel like that of 19th-century taverns. These unique features are surefire conversation starters among guests, especially those who appreciate old yet timeless architecture.
Stone-Topped Island and Counters
Farmhouse-inspired accents bring out another type of rustic feel that makes use of less wood compared to the ones shown earlier. Brick, stone and wood are still the primary materials used for interesting textures both on the countertops and flooring.
Minimalist Industrial Design
A minimalist, industrial design gives a kitchen a more contemporary touch. Stainless-steel appliances complement the metal accents and brick wall for a cohesive overall design. Concrete flooring knocks the ball out of the park.
A Color Scheme
Choosing a color scheme that works well together can truly bring a kitchen to life. In this example, the light wood colors of the ceiling and island top are beautifully contrasted by the navy-blue cabinetry. The smooth wooden textures add a touch of elegance.
A Chandelier as a Focal Point
Barndominiums tend to have high ceilings, resulting in a huge open space above the kitchen. This space can be put to good use by filling it in with a chandelier or a couple of pendant lights. The added lights are both functional and stylish.
All in the Details
Nitpicking on the tiny details can add more personalization to a barndominium kitchen. You can look into unique backsplash designs or add gold accents on black cabinetry for a luxurious pop. Look into pendant lights that can complement the overall design of the kitchen. These small details add up to the charm of the barndominium kitchen.
The best kitchen design for a barndominium is the one that serves the owner's kitchen workflow, lifestyle and how they plan to use the space. It is important to consider function before aesthetics when designing a custom kitchen, after which you can help the owner design the kitchen any way they want.
Make use of your preferred design elements to bring a kitchen to life. The kitchen design ideas above are mere suggestions. There are endless possibilities to layout and style a kitchen according to your client's preference. The wide variety of custom choices is what makes barndominiums as popular as they are.
—By Aileen J. Patentes, BSCE. A licensed civil engineer, she has seven years of experience in steel fabrication and steel detailing for metal buildings in the United States – both commercial & residential (barndominiums) sectors.