Bathroom Audio Systems: All You Need to Know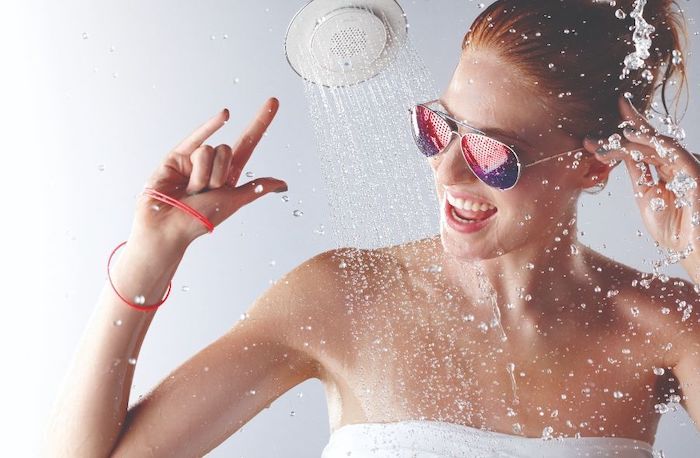 May 1, 2023
In years past, bathroom audio systems were more for the "wow" factor than actual functionality. Today's smart devices, however, aren't just for early adopters as they offer much more than streaming the latest chart-toppers as an accompaniment for singing in the shower. For professionals looking to create a more relaxing, rejuvenating bathroom experience, audio plays a key role, and designers can offer several ideas on how to incorporate audio elements based on complexity.
Entry-Level Bathroom Audio Systems
At the most basic level, homeowners only need a Wi-Fi connection and power source to get their audio journey started. Equipping a bathroom with a device such as Google Home and Amazon Alexa can be an ideal solution for clients who aren't ready to dig into a bigger renovation project but want a little extra oomph in the space.
When upgrading the bathroom simultaneously with other smart technologies, such as toilets and lighting, a Google Home or Alexa can offer even more functionality, controlling these other smart devices in tandem with audio. Designers can also help homeowners consider safety features for homes with families of all ages, such as how smart voice control can be used to set the water temperature to prevent scalding and burns.
The Kohler Moxie showerhead and wireless, waterproof and removable speaker combo is a perfect solution for a quick and easy bathroom audio system upgrade. The speaker's charging dock has a small footprint and can be placed on the bathroom vanity so homeowners can listen to music both inside and outside the shower – a two-for-one deal that only involves swapping out a showerhead.
Medium Complexity That Doesn't Require a Remodel
For designers who are working with homeowners that want to make a bigger splash, but not go all in, they can consider a more mid-range audio system. For example, designers can tackle two priorities at once (air quality and audio) with bath fans featuring an integrated speaker that can connect to most Bluetooth-capable audio devices.
Lighting can also play a dual role in a medium complexity project. There are many recessed lighting options available today that come equipped with Bluetooth speakers, making it easy for homeowners to connect their portable device when they enter the bathroom.
Depending on the overall bathroom design, designers can recommend linking up to eight lights for a fuller, richer bathroom audio system experience. This is a great (and budget-friendly) option for those spaces that already have recessed lighting.
One product in particular that has captured homeowners' imagination within this category is the voice-enabled Verdera Voice mirror, which is part of Kohler's Konnect line of smart home products. According to the manufacturer, it's "the first-ever bathroom mirror to use technology to improve lighting quality, provide entertainment and keep users up-to-date with traffic and weather reports all in one unique piece." This makes it a perfect option to recommend to busy clients who need greater multifunctionality without doing a full renovation.
Intense Sophistication for Top-End Clients
Lastly, for higher-end clients undergoing major bathroom or smart home renovations, designers can go all out on sophisticated systems with flashier features. The Kohler DTV+ Digital Shower Control and Kohler Sound Tiles, for example, can control audio as well as all of the shower components, including steam and lighting.
Nowadays even steam shower systems come with audio controls, such as those from MrSteam and Thermasol. The iSteam 3 control by MrSteam can utilize a MusicTherapy module to attach speakers from MrSteam or any bathroom-rated audio system, which can then be controlled through Bluetooth or the steam control.
Thermasol, meanwhile, offers an innovative showerhead that doubles as a speaker and includes Chroma therapy lighting, perfect for creating a relaxing, spa-like vibe. This product is available in a package with one of Thermasol's touch steam controls and a steam head.
Bathroom Audio Systems: Sound and Safety
As designers start to discuss the myriad of bathroom audio systems available, it's important to also discuss sound and safety. For starters, if a client is hesitant to add audio features because they aren't sure how the sound will playback, they can be rest assured that the hard, smooth surfaces often found in the bathroom (tile!) create a perfect auditory environment. Unless it is covered in carpet and other soft furnishes, most bathrooms offer great acoustics.
When it comes to safety, especially for any external audio devices, always follow the manufacturer's instructions on placement of the device. In more complex installations, it may even be beneficial to call upon an AV professional.
If it is a plug-in device, position the speaker away from the toilet, tub and sink to avoid potential hazards. Additionally, ensure that any electrical components and speakers are rated for damp/wet environments!
Today's innovative smart audio products provide designers with the opportunity to use cutting-edge technology to create an immersive audio experience that can help homeowners relax, rejuvenate and, depending on the product, even feel safer in their bathroom.
Whether a client is leaning towards a simple product swap or a more involved renovation, designers have a great deal of flexibility in what they can offer as audio solutions, and this is only the beginning. Bathroom audio systems are here to stay and will only get better as technology continues to improve.
—By Mary Cifuentes, showroom/builder director at Ferguson Bath Kitchen & Lighting for its northeast district
This post originally appeared on KBB's sister site, DesignWell365.com.
Photo courtesy of Kohler at Ferguson Bath Kitchen and Lighting Gallery