City Life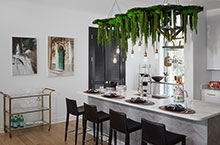 July 9, 2018
The 2018 Metro Designer Showhouse, which recently took place in Edgewater, N.J., tasked a team of designers to redesign six residences within a newly built condominium, the Glass House. With 12,000 square feet of waterfront space, the Glass House showcases skyline views of Manhattan and the Hudson River in each residence.
The showhouse aims to draw attention to Edgewater Harbor and offers visitors and potential buyers a glimpse of what might be the lifestyle for someone buying a luxury condo at the Glass House – where the second of its two buildings is now being completed.
Designer Anna Maria Mannarino of Mannarino Designs, Inc. in Holmdel, N.J., put her talents to work on a three-bedroom condo. With a modern Italian style, the condo features custom wallcoverings created by the designer, as well as pieces from her new pillow line. KBB spoke with Mannarino to find out more in particular about how she introduced a botanical twist to the condo's luxurious kitchen.

KBB: What was your inspiration behind the kitchen design?
Mannarino: I hoped to create a chef's dream space and entertaining haven with a bit of an industrial vibe.
KBB: By what were you challenged?
Mannarino: Since this showhouse was in a brand new condo, giving an existing kitchen its own personality was the challenge. A few elements we changed were replacing chrome hardware with brass, adding a textured wallcovering to the walls of the island and adding an industrial workstation in the nook.
KBB: What materials did you use to create a botanical look?
Mannarino: The light fixture created by Flowerbox Wallgarden is made of all-natural greens, which are preserved and maintenance free.
KBB: What was your favorite part of this design?
Mannarino: The light fixture, for sure! The combination of the natural botanicals, metal frame and hanging Edison lights captivate any visitor and draw them in."