Color at KBIS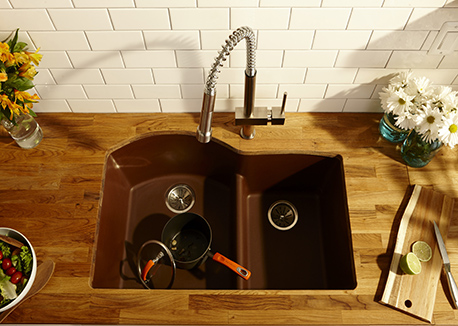 January 30, 2020
Going into the 2020 show, we knew color was going to be big. The cooler grays were replaced with warmer tones. Bold spots of color appeared in sinks, appliances, hardware and more. Classic Blue, Pantone's Color of the Year, was everywhere. Here are some of the colorful trends and products we picked up on, which we expect will continue to grow in popularity this year.
Going Blue. You can't get more classic than Pantone's Color of the Year, a simple and uncontroversial blue. It's soothing, it works well with biophilic design choices or as a fun pop of color and is versatile across spaces.
Mixing in Metallics. A touch of warmth is showing up in the metallic materials that are blending with stone and tile. This adds a bit of bling and a flash of color for areas like backsplashes or in small rooms.
The Dark Side. Black fixtures and appliances are in this year. Black is associated with luxury and moodiness in this sense and combined with the popular matte finish, it can be easy to fit into an upscale design.
Boldness: Particularly in bathroom sinks, we saw a lot of bright and bold colors. In a powder room in particular, a sink can serve as a focal point, and using one with color can center a design.
According to Gena Kirk, vice president of KB Corporate Studio for KB Home in Los Angeles, while neutrals are still popular, people are pairing earthier, more natural colors with a brightly colored accent wall or a bolder color like peacock blue, sage green or burnt orange.
"These colors are all variants of the popular, more neutral colors and can maintain the sense of peace consumers want in their homes, while also giving it a more vibrant personality," said Kirk, who offered her expertise in KBB's January issue. "In addition, variations of black and gray hues contrast nicely with other neutral colors and can create a sophisticated aesthetic to your home. We are also seeing gold tones increasing in popularity and one place it's popping up is in quartz countertops."