Designing for More – and Better – Earth Days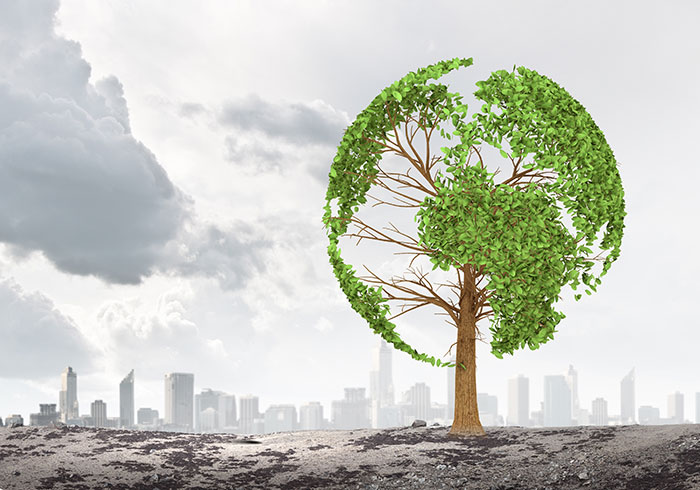 April 23, 2020
April 22 marked the 50th anniversary of Earth Day, and what a strange Earth Day it was. While sheltering in place and still battling fears of a deadly virus, people are truly appreciating when they do get to be outdoors and the peace nature brings – particularly when it's less polluted.
One of the few pluses of the pandemic has been an unexpected drop in carbon emissions; the lack of people driving, flying and working factories has helped lower numbers dramatically. No one wants COVID-19 to stick around, but it would be great if a coronavirus takeaway is learning how to pollute less. Fortunately, there are many ways designers can help their clients make less of an impact on the environment and hopefully have an even clearer – and hopefully virus-free – Earth Day next year.
It is estimated that materials from construction and demo (C&D) sites result in upward of 170 million tons of landfill waste every year, and much of this could be recycled. Depending on where your project is located, there are a number of resources where demo waste can be taken. According to the EPA, reuse centers manage the largest volumes of materials, taking items such as doors, windows, cabinets, plumbing fixtures, lumber, millwork, metals, flooring, hardware, bricks and fencing.
There are also material and waste exchanges, which are markets for buying and selling reusable and recyclable commodities. These include physical warehouses and websites that connect buyers and sellers, and they vary in terms of area of service and the types of commodities exchanged. In general, waste exchanges tend to handle hazardous materials and industrial-processed waste while material exchanges involve nonhazardous items.
Install Eco-Friendly Appliances, Fixtures and Materials
Many designers today are already recommending green products, whether they or the client know it or not. There is Energy Star for less energy use, WaterSense for less water use and FSC-certified for responsible gained wood products. There is also the Rainforest Alliance Certification for socially and environmentally-friendly products from farms and forests, and SCS Recycled Content certification verifies that a product contains pre-consumer or post-consumer materials.
Do Your Research
Recycling isn't as easy as it should be. Some products – concrete, metals and bricks – are typically simple to reuse and recycle at reuse centers. Plastics, which are a major culprit when it comes to waste, are trickier, since only certain types are acceptable and what's accepted depends on your city's practices.
The best thing you can do for the environment and your projects is to research how to recycle and reuse where your project is located. It takes practice to know what to recycle, where to bring the waste and what products to source in the new design. It takes time and patience, but the impact our efforts could make on the housing and construction waste over time will be worth it.
How did you celebrate Earth Day 2020? Let us know on our Facebook page and on Twitter @KBBconnect.