End of Summer Creativity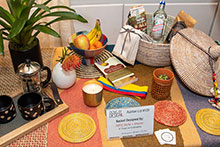 September 19, 2019
Fall is right around the corner, and the annual fundraiser for DIFFA (Design Industries Foundation Fighting AIDS) was a great way to wrap up the summer season. Held at Midtown Loft & Terrace in New York City, the eighth-annual soirée recently invited 20 top-tier designers and brands to create global-themed baskets for auction.
Every year, Picnic by Design brings together more than 200 industry guests for gourmet picnic fare and custom designer baskets for auction. Event proceeds support DIFFA's mission to grant funds to HIV/AIDS service organizations across the country.
"You ask designers to create a simple basket, and you get a full-blown picnic extravaganza!" said Cindy Allen, DIFFA chair. "Picnic by Design gathers the industry's best and brightest design minds to support the cause through fervent creativity."
Basket designers included Stacy Garcia, Paris Kostopoulos, Vanessa Deleon and Michele Alfano, among others. Here were some of our favorites:
"Picnic by Design has evolved into one of DIFFA's most popular annual fundraising events in the fight against HIV/AIDS," said Dawn Roberson, executive director for DIFFA. "I'm always in awe of the designers' creativity and how year after year they have donated their time and talents to make Picnic by Design what it is today: a can't miss event with a powerful message and an active community that comes together to raise awareness and funding for this critical cause."

What were your favorites? Let us know on Facebook or Twitter at kbb_magazine.