Enjoying Nature at Home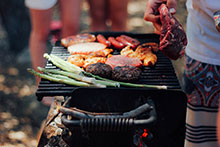 April 18, 2019
While in some areas of the country homeowners can enjoy their outdoor spaces all year round, the rest are just beginning to find their way outside again. That's why this past week's #KBTribeChat discussed outdoor living and particularly the outdoor kitchen. Here are some of the takeaways:
Using Natural Stone Outside

Stone flooring can create a seamless design from indoors to outdoors.
Natural tones allow a home to fit into its environment.
Use natural stone three ways – stacked, flat and slab – for added interest.
Blend elements like elevation changes, veneers, native plantings and rock outcroppings to immerse the design in nature.
Choosing and Installing the Best Surfaces

Outdoor materials need to be able to withstand harsh weather, so durability is a prime factor when choosing them.
Pavers should be set in place using edging and joint sand; these can help prevent loose pavers.
Maintaining its look over a lifetime is a factor. For countertops, natural stone does not have any dyes that would discolor in direct UV exposure.
Slate works as a patio paver because of its stain resistance and overall great look.
For patios with natural stone, there are many finish options (like thermal, sandblasted, flamed) that can help with slip resistance.
Light or Dark Surface?

It depends on the environment, but consumers in hotter climates seem to prefer light surfaces.
Both can be done well, but there is something about the way the sunlight hits a light neutral color that appeals to everyone.
Most people like to select a light-to-medium-colored natural stone for exterior countertops to minimize the surface getting really hot from sun exposure.
Trending Features

Pagodas are popular, as they provide shade for grilling and dining.
Grilling islands offer countertop space to entertain and prep.
Outdoor fireplaces create a space for conversation without distraction.
Stainless-steel outdoor cabinets – available in many colors – are popular because of their furniture-like appearance and durability.
While a hardworking grill is most important, an undercounter refrigerator and pizza oven are also in demand.
Join next week's KBTribeChat – which is on building a sustainable future – by searching for #KBTribeChat in Twitter at 2 p.m. EST next Wednesday, April 24.