Favorites from the Architectural Digest Show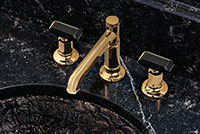 April 1, 2019
         Photo courtesy of Hunter Douglas – Color Display Board
By Barbara Schmidt, studiobstyle
For the past several years, I've had the good fortune to be able to visit the Architectural Digest and Design Show (ADDS) held annually in March at Piers 92/94 in Manhattan. Every year the show surprises, and this year was no different. Some of the top trends have been coming on for a while, and there are a few that are creeping forward with the consistency to make us believe they are here to stay.
Who Cooks for You
What is here to stay? Luxury appliances, that's what. The incredible explosion of the luxury appliance category has been building for years. There are new manufacturers, rebranded manufacturers, retooled product lines and product extensions.
This trend has been the subject of many articles and discussions and was the singular largest overarching trend at the show this year. The luxury appliance category was largely made up of a few players, but I visited 11 booths (and there were more) at this relatively smaller trade show.
Why are luxury appliances so hot? There are several reasons to consider:
When selling your home, often times the appliances are described on your listing sheet. Kitchens sell properties, and the appliance package can be very persuasive.
Quality home cooking has had a huge resurgence. Call it the Food Network influence – we are watching and emulating cooking as entertainment.
Just as cooking is trending, so are the methods with which we use to cook. New technology like induction, sous vide and steam ovens are newer tools that create new demand.
Smart technology has become the luxury appliance norm. Nearly every appliance manufacturer has an app for instant messaging to the homeowner's smartphone. This makes cooking and maintenance even easier for the homeowner.
Appliances have become décor. One manufacturer told me they have thousands of functional combinations to choose from, thereby creating a truly individualized and unique user experience.
Photos courtesy of Signature Kitchen Suite – the 48-in. Duel-Fuel Pro Range with Sous Vide
Specialized cooking was also a trend both for indoor and outdoor kitchens. Wok cooking was featured with a couple of appliance manufacturers and various outdoor cooking options such Kamado grills and pizza ovens. Outdoor cooking continues to be a strong extension of the luxury appliance trend.
Photo courtesy of Jenn-Air – the limited edition, leather-bound "Cuts" Column Refrigeration
That Golden Touch
The second biggest trend I saw was a continuation of the brass influence as a finish; loads of brass faucets were shown for the kitchen and bath. Some faucets were mixed with matte black or black glass handles, and some appliance handles were mixed stainless with brushed brass.
I also saw brass cabinet hardware and brushed-brass light fixtures. The love affair with brass, whether it be lacquered or brushed, is still a very strong trend in every room of the home. It may be even stronger than the past few years when we saw the finish re-emerge from several decades past.
                    Photo courtesy of Lisa Jarvis – the Brass Maxwell Pull
It's interesting because I've heard some say it would be around for a few years and then be gone. But no, it's here to stay for a while, and that just may be in response to those who can't remember it when it was representative of cottage and Victorian in the 80s. Now, brass is considered luxurious and respected as transitional among it's favored cousins both polished-nickel and brushed-stainless finishes.
                 Photo courtesy of Brizo – the Invari Widespread Lav Faucet
Coloring Between the Lines
The third trend I witnessed was color. Several manufacturers are committed to adding color to their line up. In the window covering category, it is a commitment to color and pattern. In the kitchen appliance category, it is the addition of white and other bright colors. And in the furniture category, it is a commitment to pale pink and navy.
Are these color trends here to stay? Well pale pink was introduced about three or four years ago, and it continues to be a favorite neutral for any room in the house. We are also seeing deep hunter green make a resurgence in kitchen cabinetry, although most of the kitchens at the ADD Show were gray and black.
                                      Bertazzoni Professional Series 36-in. range in red
Barbara Schmidt is a nationally recognized interior designer at studiobstyle and marketing expert creating authentic storytelling featuring spaces, places and trends.