Finding Your Superpowers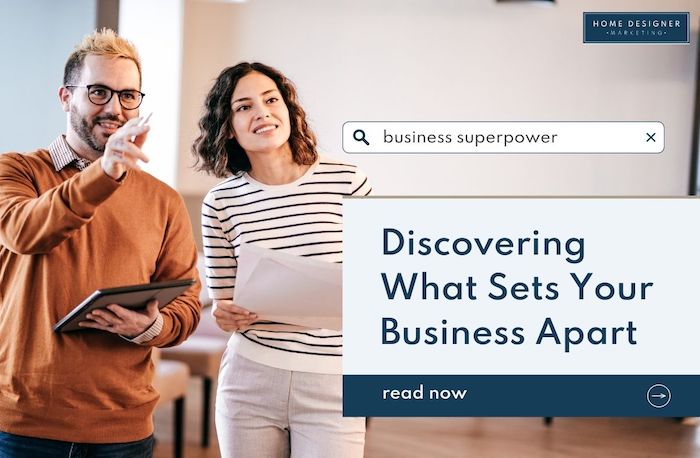 October 9, 2023
Effectively showcasing your unique strengths – your superpowers – in your branding, messaging and marketing is crucial to build trust and attract your ideal clients. As a designer, your ability to connect with clients on a personal level is invaluable.
Face-to-face meetings (even if virtual!), your website, social media, email marketing, and more, allow you to showcase what makes you unique and effectively communicate to potential clients how you can help solve their problems.
By highlighting what sets you apart, prospective clients should be able to easily grasp why they should choose you versus your competition. It's crucial to communicate these specialties and strengths upfront, so that they can quickly understand how you can solve their problems, your offer, and why your business is the perfect fit for them.
How to Find Your Superpowers
In the fast-paced world of interior design, you need to captivate potential ideal clients and thrive in a crowded online market. But how? Uncover what truly sets your interior design business apart.
Hint: It's something more than the fact that you create beautiful spaces!
Here are some tips to help you discover you and your team's superpowers and create an engaging professional brand:
Pinpoint Your Ideal Projects
It's important to identify the specific area of interior design where you shine the brightest. Whether it's remodeling, new build homes, kitchen & bathroom design, commercial spaces or pioneering eco-friendly design, focusing on a specific type of project will establish you as the expert in your target market.
Showcase Your Expertise
Show that you've done it before! Make it easy for potential clients to find your testimonials and portfolio that showcases your best work. Take it a step further and craft project case studies where you can lead them through before and afters of how you solved particular problems for past clients. This will demonstrate your expertise and build trust with potential clients so they can easily visualize how you can transform their space.
Craft Personalized Experiences
Tailor your process and services to cater to the unique needs of your ideal client. By offering personalized design solutions within a streamlined process, you'll create unforgettable experiences that set you apart and your clients will appreciate the attention to detail and feel truly understood. Remember to go beyond having streamlined processes, you also need to communicate those processes before someone works with you. Have your process on your website and post about it in social media – it could be the sole reason someone reaches out to you versus another designer.
Stay Ahead of the Curve
The world of interior design moves fast; from new trends and materials, to appliances, technology and even legislation. Being well-versed and communicating this with potential clients showcases your commitment to deliver above and beyond design solutions. Let it be known what associations you're a member of, certifications that you have, and what industry events you attend. You can showcase these on your website, in blog posts, in email newsletters and on social media.
Collaborative Connections
Cultivate relationships with other industry professionals, such as architects, contractors and vendors. Look into opportunities where you can get published, be a speaker, or sponsor. Collaborating opens doors to new opportunities, expands your reach, and builds trust within your potential clients.
I Know My Strengths…Now What?
Discovering your strengths, as well as the exceptional talents of those within your business, holds immense value. However, it is in how you harness and showcase these strengths to the world that truly sets you apart. Merely recognizing your superpowers is not enough; you must actively utilize it to leave a lasting impression!
Leverage your website, social media, and email list to demonstrate what makes you stand out and why clients are drawn to work with you. Remember, it is your responsibility to earn their trust and loyalty!
When potential clients visit your website, see you on social media, or read a marketing email from you, they should find answers to these crucial questions:
What makes collaborating with you so incredibly appealing?
Collaborating with an interior designer should be an exciting and rewarding experience for clients. By communicating the unique benefits and value that clients will gain from working with you, you are more likely to attract your dream client. Whether it's your exceptional attention to detail, ability to bring their vision to life, or your personalized approach, highlighting these appealing aspects will help clients understand why choosing you as their interior designer is a decision they won't regret.
What establishes you as an authority in your area, or the industry?
Establishing your company as the authority in your area, or in the interior design industry if that's your goal, is crucial for building trust and credibility with potential clients. It's important to communicate your expertise, years of experience, awards you've won, and any industry recognition or certifications you have obtained. By showcasing your extensive knowledge and track record of successful projects, you will build a strong brand and clients will see you as a trusted expert who can deliver exceptional results.
Identifying and communicating your strengths is key to standing out. These strengths could include your ability to create stunning renderings, your talent for incorporating sustainable design practices, or your incredible knowledge of kitchen design. By showcasing these exceptional strengths, you will unlock the full potential of your superpowers and clients will recognize the added value and expertise you bring to their project, making you the obvious choice among your competitors.
At Home Designer Marketing, we offer interior designers a free brand, website, and SEO audit to gain clarity on what needs to change in order for your business to compete online.
—By Debra Scarpa, owner and designer, Home Designer Marketing
Photo credit: Home Designer Marketing