From Los Angeles to Germany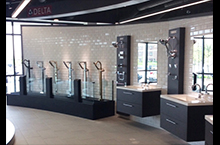 June 22, 2018

Recently taking place over three exclusive evenings in Los Angeles, Gaggenau's Restaurant 1683 paid homage to Gaggenau's origins in the Black Forest in Germany. The name of the pop-up restaurant is a reference to the appliance company's founding as an ironworks in 1683. The Los Angeles event marks the latest installment for Gaggenau's 1683 series, which debuted in New York City in 2016.
Originally launched as an interactive dining experience complete with tableside cooking, this pop-up features models dressed in Black Forest folk clothes performing live interpretations of a cuckoo clock's automata.  Chef Daniel Humm of New York City's Eleven Madison Park created the menu for the event and prepared it tableside.
Inside the elegant dining room, seating was under a canopy of 22-ft.-tall trees and surrounded by snow. The sights and sounds of a working metal forge placed in the center of the lofty space represent the brand's history. For this event, Gaggenau supported Operation Smile– a nonprofit medical services organization- and welcomed the organization's brand ambassadors as hosts for the exclusive evenings.

KBB spoke with Natascha Kruusi, brand manager for Gaggenau USA, to find out more about the design and how this restaurant echoes the identity of its brand.
KBB: What was your goal in this space?
Kruusi: We wanted to transport guests from the streets of downtown Los Angeles into the lush surroundings of a serene winter night in Germany's Black Forest.
KBB: How does the restaurant reflect the Gaggenau brand?
Krussi: Inspired by the brand's rich history, from hand-forged beginnings to its evolution into the pinnacle of culinary luxury, the interiors and decor throughout Restaurant 1683's lofty location are carefully selected to show Gaggenau's admiration of functionalism, natural materials and luxury.
KBB: What was the menu like?
Krussi: Chef Humm created an extraordinary menu with his team, including eggs benedict with caviar and asparagus, chicken roasted with nettles and new potatoes and peaches grilled with honey and lemon thyme.

KBB: What was your favorite part of this space?
Krussi: The sunset bar is one of my favorite spaces in the restaurant as it captures the breathtaking views of a West Coast sunset and features a bar handcrafted entirely from a single oak tree sourced directly from the Black Forest. The rustic interior design of this space combined with the modern skyline of LA gives a sense of the brand's long history from past to present.