Future-Proofing Renovation Projects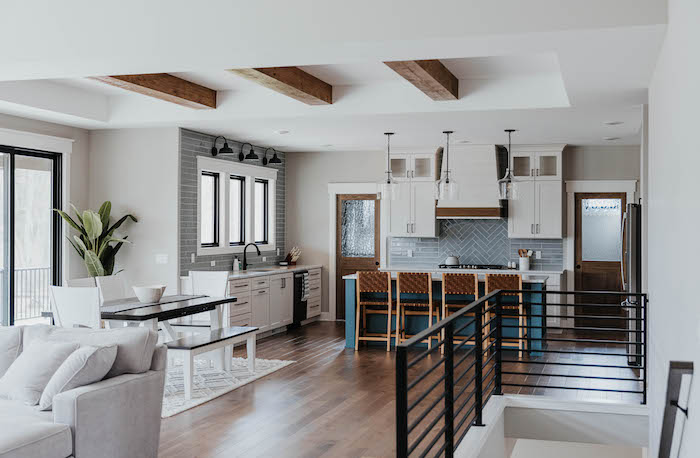 January 9, 2023
The future is here. We are flooded daily by fast fashion trends, new health crazes and high-tech updates. For clients planning a home renovation, making sure you as a designer are on the forefront of future trends is probably on your mind. Incorporating current design trends can be easy. Making sure a space is future-proofed for long-term enjoyment is more challenging.
Long-Term Living
Statistics gathered from the National Association of Home Builders, as well as the National Association of Realtors, indicate that due to rising interest rates and a lack of supply, people are staying in their homes for an average of 13 years. That's up at least two years from previous statistics. It is important to consider how much families may change when planning a renovation. Changes in family dynamics may mean people are added to a household. Disabilities may arise, either temporarily or long-term, requiring modifications to be put in place.
What used to be referred to as "aging in place" is now updated to "universal design." This reflects the belief that thoughtful design changes can benefit us all. Zero-step showers, wider clearances in hallways, and toe-kick lighting in bathrooms for evening use are all examples of some universal design elements that benefit all ages and ability levels. If you have clients who are looking to reside in their home for a longtime, consider getting specialized training. Some design professionals carry a CLIPP certification (Certified Living In Place Professional) and can add extra insight on how small changes like these can make big impacts over time.
Remaining Flexible
Major design trends have an average trend span of about 10 years, with casual farmhouse and shiplap recently upsetting that curve. Color trends can be similarly fickle, following everything from political shifts to seasonal swings. While salespeople and contractors might like customers to purchase and install new products every 10 years, it's not a good real estate strategy for your client, nor is it good for their pocketbook.
You can avoid fast-fashion pitfalls and help ensure a home is future-proofed by keeping major investment items such as hard-surface flooring, cabinetry and countertops neutral. This will allow you to shift color and style around these core elements as trends change in the future. Small touches like updating cabinet hardware, or swapping out plumbing and lighting fixtures can change the tone of a room without major reconstruction or expense.
Future-Proofing for the Inevitable
While a space may accommodate fresh color palettes or hardware finishes in the future, there are some updates that can't be avoided. Things break. Newer appliances especially, have notoriously short lifespans. Although some appliance manufacturers have committed to standard sizing for their built-in appliances to make replacement easier, it's not a guarantee of longevity. If appliances are part of your renovation, take time to talk with appliance professionals who service as well as sell. This will give you a good idea of what brands and models are more serviceable and less likely to require full replacement when they break.
Remodelers are now also adding home automation and the latest tech gadgets to their list of must haves. It is important for anyone to keep in mind that technology needs upgrading in addition to occasional repairs or replacements. Ten-year-old cars have CD players; new cars have USB ports, aux jacks and Bluetooth. Be careful not to lock yourself too tightly into one format. For smaller tech, consider items that are fully removeable and more common in size. For larger-scale projects, it's wise to involve a home technology integrator who can help plan larger systems with future upgrade potential in mind.
It is almost impossible to predict the next amazing thing, but some future-proofing planning can help shield a renovation from fast fashion pitfalls and create a space that is enjoyable from the moment it's complete, as well as for years to come.
—By Anneke Huisman, cabinetry design & sales, Standale Home Studio
Photo: Leigh Ann Cobb