Gearing Up for Salone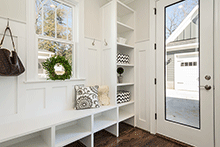 February 18, 2020
This past week, KBB got a glimpse of what Salone del Mobile.Milano – the annual design show in April – will reveal, including products from prominent European kitchen and bath manufacturers and a few new events and projects. This year is also one of the biannual occurrences of EuroCucina, the International Bathroom Show and FTK – Technology in the Kitchen.
International Bathroom Exhibition
Bringing together 179 exhibitors, the International Bathroom Exhibition will emphasize the bathroom's evolution into a more technological and efficient space, without compromising comfort or beautiful design. Sustainable qualities and truly seamless design are trends that were forecasted during the press conference.
EuroCucina
EuroCucina will host 84 exhibitors with a brand-new, extended exhibit format. It is likely booth designs will showcase how kitchen design is involving into a more integrated and fluid area in the home.
FTK – Technology for the Kitchen
With 40 exhibitors, FTK – Technology for the Kitchen will highlight the rise of the smart kitchen, increased connectivity and energy-saving appliances. We expect to see more sous-vide and updated steam cooking features in particular.
SaloneSatellite
In its 23rd year, 600 young designers will participate in this year's SaloneSatellite, with a theme of "Designing for Our Future Selves." This year, designers are invited to reflect on inclusive design that promotes autonomy, comfort, user friendliness, interaction and safety in small showcases throughout the halls. There are 27 schools and universities invited to showcase shapes, colors, materials, cultural processes and skills referencing their own regions, including four new countries this year: the Democratic Republic of Congo, Nigeria, Pakistan and Paraguay.
Look out for more from Salone del Mobile.Milano in our upcoming May/June issue.