Houzz Partners with CLUE Board Game for New Design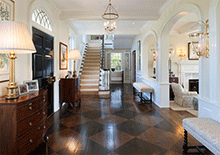 August 29, 2019
Remember the classic CLUE murder mystery board game? In celebration of its 70th anniversary, Houzz is teaming up with Hasbro, the toy and board game company, to update the game with designs inspired by – and voted upon – by the Houzz community.

CLUE is a board game in which players try to determine which character is a killer, which weapon was used and in which room in the game's famous mansion the crime was committed. By partnering with Houzz, Hasbro is giving CLUE fans a chance to shape the game and update the mansion, also known as Tudor Manor, for the first time in 70 years.

"The room design helps tell the story of CLUE through visual imagery," said Christopher Nelson, Hasbro's senior game and product designer. Whichever design voters choose, he says, will serve as a new backdrop against which the game's intriguing events unfold.

The four popular Houzz photos they'll be able to vote on were selected to fit the look and feel of Tudor Manor while giving the existing hall a modern refresh. Whichever new room is chosen to take the hall's place, Hasbro designers will study the style of the inspirational design and create matching mood boards for their illustration team to interpret.

"Once the furniture placement is approved, the illustrator adds textiles, prints, textures and color to the room," said Kathleen Murray, senior creative manager of games development for Hasbro. "From these we delve even further into the story by leaving 'Easter eggs' throughout the rooms. Perhaps you'll find that there is a broken bottle, or maybe there is a candlestick that is out of place."
If voters choose to update the hall itself, the grand entrance shown here by Archer & Buchanan Architecture will be its renovation inspiration. The dramatic arches, brass light fixtures and custom-stained white oak floor could deliver a refined vision for the reimagined space.
If voters choose to replace the existing hall with a single room, they can select from three rooms – a drawing room, a bathroom or a guest room. The drawing room, if chosen, will pull from the rich palette and traditional details of this Chicago drawing room by Michael Abrams Interiors.
With elegant gondola-print wallpaper, soft lighting and dashes of orange, this jewel-toned bathroom by Ann Lowengart Interiors would fit right into the CLUE mansion's ornate aesthetic.
Gothic touches in this moody bedroom designed by Tineke Triggs of Artistic Designs for Living could persuade voters that this is the right room to add to the updated board game.
The winning image will be revealed in October 2019, and the corresponding room design will then be incorporated into the updated CLUE game board by December. Which is your favorite?