How to Design Content That Invites Readers into Your Brand's Story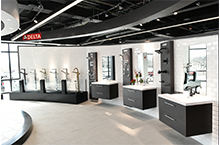 October 31, 2019
By Christina Xiong
As a designer, marketing yourself or enlisting the help of a marketing company is essential for the growth of your business. Copy is a crucial component of your website, blog and social media platform. Well-wrought copywriting doesn't just sell, it provides your client base with a value.
Whether that value is information, entertainment or inspiration, content tells your story, building both your brand and a relationship with your clients or followers.
Authenticity is appealing. People are starved for genuine connections and are putting their money where their emotions have been sparked. This is one reason why influencer culture has been such a force for many companies. People see someone they consider likable, and they crave what the influencer either has or what they create.
If you're a designer, you probably have amazing before-and-after photos to post on your social media outlets, but there is more to marketing – even influencer marketing – than just the visuals. Your photo captions often contain an enormous missing piece of the lone visual's story.
Copy does not have to be a stuffy or sound like a cliché-riddled sales pitch. You can write in a personable voice, keeping your ideal audience in mind. Here are some tips on creating powerful copy as a designer:
Be Yourself
Create a real narrative around your brand and yourself. After all, if your goal is to promote your services, you want to be relatable to potential clients. Depending on your personal brand, you may even try for a little humor in your narrative voice.
Develop a Multi-purpose Bio
Your website should have an excellent bio page that humanizes you to your audience while at the same time draws attention to your accomplishments and strengths. Tell some of your story. Either do your homework on SEO or hire someone to add that to your site's copy for you.
Tell the Story of Your Designs
Your photos should include a brief explanation of the project, with product descriptions, written in lively prose. This is especially important in social media copy. Telling the story of what makes up a project is more effective than just a series of images, especially when you solve problems of functionality – possibly one of the main reasons many clients seek you out.
Make Your Readers Feel Something
A beautifully designed room makes people feel things; you want your copy to do the same. If there is an element of your work that was emotionally evocative to you, chances are it will have the same impact on your audience. Just be sure not to share personal details about your clients unless you have asked for permission – and don't do that unless you feel they will be receptive.

Share the Process
When talking/writing about your work, your audience wants to know what makes you tick. Let the reader into your creative process so they can feel like part of the experience. Sharing your process may inspire others and make you more memorable, and it helps your audience feel drawn into your narrative.

Consistency Is Key
If you develop a voice for writing your own content, be sure to use it consistently across all channels. After all, inconsistency in voice can have your prospects doubting your authenticity. When posting to blogs and social media, try to keep the timeline of posts consistent as well. People can be fickle, and brands that post sporadically often fall off of their audience's radar.
Writing Chops
Now that you know some ways to create excellent copy for your interior design business, all you have to do is develop some writing chops. Perhaps you're already a seasoned writer. If you are not experienced and feel intimidated, you can enlist online editing tools, turn your friends or family into your beta readers or hire outside writing or editing help.
Christina Xiong is the staff writer and editor at RT Marketing, Inc., a company that has provided marketing services for remodelers, homebuilder sand other building industry professionals for more than 30 years. Find more at https://www.rtmarketinginc.com/