How To Revamp the Bathroom Without Breaking the Budget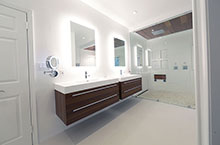 May 6, 2019
By Beverly Bishop
There are many small changes that make a big difference to the style and function of the bathroom. In fact, using many of these cost-effective changes together can make a giant impact in the space. You may not get that clawfoot tub, but I can guarantee your client will be booking time to spend relaxing in that space, accompanied by a glass of their favorite wine or champagne.
Bathroom Hardware Speaks Volumes
Changing the taps is a surprisingly effective way to give a bath and basin a new look. Select a waterfall spout, and opt for elegant curves or super-slim, angular models. It's a good idea to check on the quality of the taps in store, even if you then order them online.
Next, look at the little details. You can update towel racks, drawer pulls and towel hooks for a relatively small investment. These items may seem insignificant, but updating them can make a big difference in a bathroom's look.
Budget Tip: Try WayFair online. They often have highly discounted hardware. Home Depot also is a great place to take a peek for terrific deals.
Add Glamour with Lighting
Lighting can create any atmosphere you like from a bright, cold sterile one to a dim, relaxing, romantic state of mind. This is why the dimmer switch is a must for the bathroom.
Keep in mind that you will want to light the vanity area with some excellent task lighting, as well as the tub and shower area. A ceiling fixture and lights above the vanity mirror are a must. Pendants over a vanity are also great for task lighting.
There is no better way to bring star appeal to a bathroom than with a sparkling light. A ceiling chandelier can make this kind of bold statement.
Budget Tip: Check estate sales for chandeliers – you can often pick one up for a fraction of the cost.
Play with the Walls
A wall surface that's not already tiled can be quickly updated with a new color or pattern. Choose paint (the most inexpensive option) or wallpaper that's specially formulated to shrug off moisture and protect against mold growth. If your client's bathroom is small, use bolder design ideas like a print wallpaper they love but would not use in a larger space.
Another often overlooked – yet important detail – is grout and caulk. When this gets grimy, it gets unsightly. By simply cleaning the grout and adding straight, clean lines of caulk around the tub and sink, you can add sparkle for just a few dollars.
The Storage Wars Begin
A towel ladder, over-the-toilet storage shelves, free-hanging shelves, baskets and bins are just a few ideas to perk up your client's storage needs.
Organizing bathroom storage streamlines the room and saves on time, too. Go for wall-mounted rather than floor-standing cabinets, or fit shelves to hold neat baskets and boxes. Rails, hooks, shower caddies and over-door racks will also make the most of every inch.
Mirror, Mirror on The Wall
A large mirror in a small space can have a dramatic effect. It can be the focal point, or it could also create the illusion of greater space in a small bathroom.Don't be afraid to go bold here, especially in a small power room.A mirror also serves to bounce more light around, which is particularly useful in a room with a limited amount of natural light.
Budget Tip: Try your local restore or thrift shop. You can sometimes be pleasantly surprised by what you find there.
Beverly Bishop is the owner/blogger of Designtime and is based out of Ontario, Canada.