How to Set Clear Client Expectations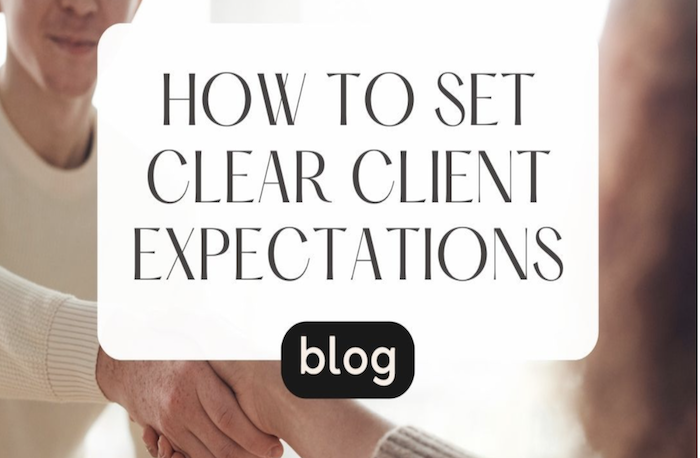 July 31, 2023
This article was originally published on July 31, 2023; it was updated on August 7, 2023 and August 16, 2023.
As an interior designer, it's crucial to set clear and realistic client expectations. This is key to ensuring a successful working relationship and project outcome.
Here are some of my tips to help you set client expectations effectively:
Initial Consultation: Begin by scheduling an initial consultation with the client. During this meeting, listen actively to their needs, preferences, and goals for the project. Take note of their investment preferences, timeline, and any specific requirements they have in mind.
Define Scope of Work: Clearly define the scope of work for the project including very specific details of what rooms/spaces you will be working with your client on. Outline what services you will provide, such as space planning, concept development, material selection, furniture procurement, and project management. Discuss what is not included in your services to avoid any misunderstandings later on.
Investment Discussions: Be open and transparent about investment expectations. Discuss the costs involved, including your fees, potential material costs, and any additional expenses. Inform the client about the possibility of unforeseen expenses that may arise during the project (in other words, give yourself a contingency amount on top of the approved investment).
Timeline and Deadlines: Set a realistic timeline for the project, including milestones and deadlines. Be sure to consider any external factors that might impact the timeline, such as the availability of contractors or material delivery times, and never make guarantees that you cannot fulfill.
Communication Frequency: Establish how often you will communicate with the client during the project. Regular updates are essential to keep the client informed about progress and to address any concerns promptly. It also will document issues that arise if you should ever need to provide such documentation.
Design Preferences and Approvals: Discuss the design process and how you will present design concepts to the client for approval. Clarify how many revisions are included in your services and any additional charges that might apply if the client requests significant changes.
Collaboration and Decision Making: Explain the importance of collaboration and decision making during the project. The client's involvement in making choices regarding design elements is crucial to ensure their satisfaction with the final outcome. I love the word "Partnership" when working with clients.
Handling Changes and Unexpected Issues: Make it clear how you will handle changes in the scope of work or unexpected issues that may arise during the project. Address the possibility of additional costs or timeline adjustments for significant changes.
Legal Agreements: Have a written contract that outlines all the discussed expectations, including scope of work, fees, payment schedules, and responsibilities of both parties. A contract helps protect both you and the client and ensures everyone is on the same page.
Follow-Up: After any important discussion, send a summary email that outlines the key points of your discussion. This will serve as a reference point for both you and the client.
Recapping the Top Tips to Set Client Expectations
Initial consultation
Define the scope of work
Have investment discussions
Set timeline and deadlines
Establish communication frequency
Clarify design preferences and approval process
Explain the importance of collaboration and decision making
Address handling changes and unexpected issues
Use written legal agreements and contracts
Document follow-up discussions
Remember, setting client expectations is not a one-time event. Continuously communicate with your client throughout the entire project to keep them informed and address any changes or concerns promptly.
Being transparent, organized, and proactive in communication will help you establish a positive and productive working relationship with your clients as an interior designer.
—By John McClain, an interior designer and business coach with offices in Florida and Los Angeles. He is the author of The Designer Within: A Professional Guide to a Well-Styled Home.